Marco Benevento
Upstate New York
http://marcobenevento.com/
When longtime jazz/jam favorite of ours, Marco Benevento, brought his band through town last week for a show at the Asheville Music Hall, he was kind enough to sit down and talk with us about music, touring, gear and more…here's our chat, enjoy!
[Pedal of the Day] First of all, where did you grow up? Do you still live in the same place?
[Marco Benevento] I grew up in Jersey, like 20 miles from the City, northern New Jersey. I moved around a couple of times. My parents still live in the same house I grew up in there, which is awesome. And you know, so I would go to the city a lot, and then I went to college at Berklee College of Music in Boston. And I always knew I'd eventually come back to the city. And then I lived in Brooklyn for like 10 years, and now I live upstate New York. I was just kind of, you know, sick of the hustle and bustle, wanted to be more connected to nature.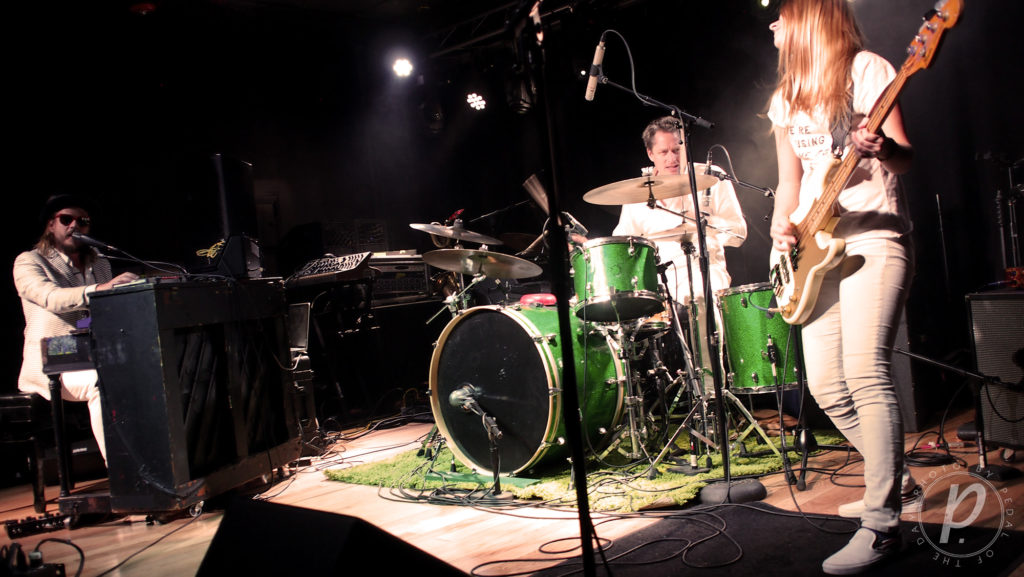 [POTD] What about musical background? How do you start playing?
[MB] I guess like most kids, your parents kind of make you take piano lessons, so I got into piano, and then my folks got me a synthesizer, and that was when my eyes lit up. I'd put headphones on and figure out how to make sounds and stuff and then they got me a four-track recorder and a drum machine, and I was in my room a lot, just playing all the time. And then they got me like a Korg PolySix, which is like an analog keyboard from the late 70s or early 80s, and then I got it so I got all into that stuff. My parents are so awesome – they also got me a Hammond organ when I was 16, for my 16th birthday, because I wouldn't shut up about how much I loved the Hammond!
I just got into the whole experimenting with sounds in your room kind of thing, with a four track and drum machine and some synths, and then got into jazz at Berklee and learned a ton about harmony and melody and all that stuff. I was sort of doing kind of advanced stuff I never even thought I'd be able to do, like Chick Corea solos, McCoy Tyner and Keith Jarrett and Brad Mehldau, and got really heady into that whole side of things. I thought was going to be in a jazz trio for a minute, and then I discovered how you could plug the piano into effects pedals. There was something like sort of boring and almost monochromatic about the piano trio to me, it was like it was to normal, too quiet and too jazzy for my sort of upbringing, with the sense of rock and roll everything. So, I put a guitar pickup on the piano and ran it into a Sears Silvertone, and I was like, "Oh, tremolo," and then added distortion, and then over the years it's just grown. Now I'm traveling with my own little piano that has a ton of effects on it. And it's like sort of a hybrid acoustic/electric thing.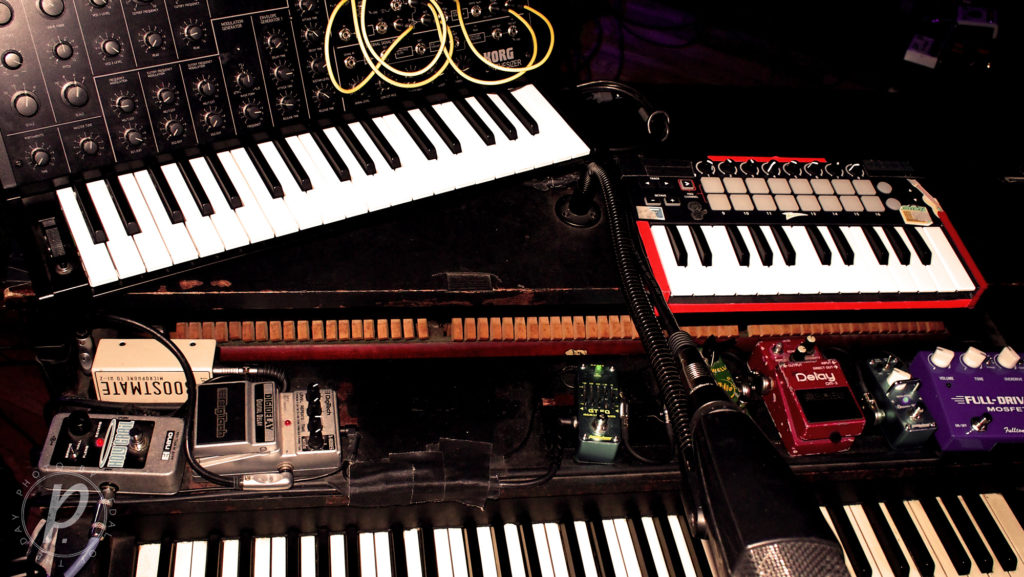 [POTD] I remember when I saw you guys in Boone back in the day, I'd never seen the keyboards set up like that, with so many pedals on top. And for sound check, you did this real mellow, jazzy track, and I thought, "This is going to be kind of chill," out and opened up with one of the loudest songs I've ever heard! I didn't know two guys could make that much noise! So, how about influences? You mentioned some of the jazz guys – anybody else that really sticks out?
[MB] I'm a big vinyl collector. Actually, when we travel on the road we have a green room road case, and we have a record player with a little tube amp in it, and we have a bunch of 45 and a bunch of records. You know, we have some Prince records, the Meters, this LCD Soundsystem record we really like. We use it to get amped for the show, and also to sort of chill after the show. I toured with Dan Auerbach and The Arcs, and he and those guys sort of hipped me to a bunch of different music that I had never heard before. You know, we would go record shopping like every day. So many different things – gospel music, funk music, new soul music, you know, Charles Bradley, Lee Fields and so much stuff.
[POTD] You said you went to school at Berklee in Boston. Is that where you met Joe Russo?
[MB] I met Joe before college and I met Joe before high school. Joe and I went to the middle school in New Jersey, just seventh and eighth grade. So I met him when I was in seventh grade, which is basically like 12 or 13 then. In high school, I went to a different school, and you know, we sort of kept in touch. Actually, he did come to visit me at Berklee because he was considering going there, but then Fat Mama had started in Colorado, and he was basically a touring musician at 18 already, so I think the school thing wasn't really up his alley. But after Berklee, I reconnected with him in New York when we were both around 21 or 22, and just started playing together and The Duo was born.
[POTD] I bet you're pretty busy with the JRAD (Joe Russo's Almost Dead) stuff these days.
[MB] Yeah, it's super fun. I like Joe's approach on it – he's wanting to make it different, and it's almost like electric Miles meets the Grateful Dead, you know. Joe, as a bandleader, he made sure we had a ton of rehearsals and very long sound checks, very meticulous, that sort of thing. Because, you know, basically, a lot of the people in the audience know the music a lot better than we do!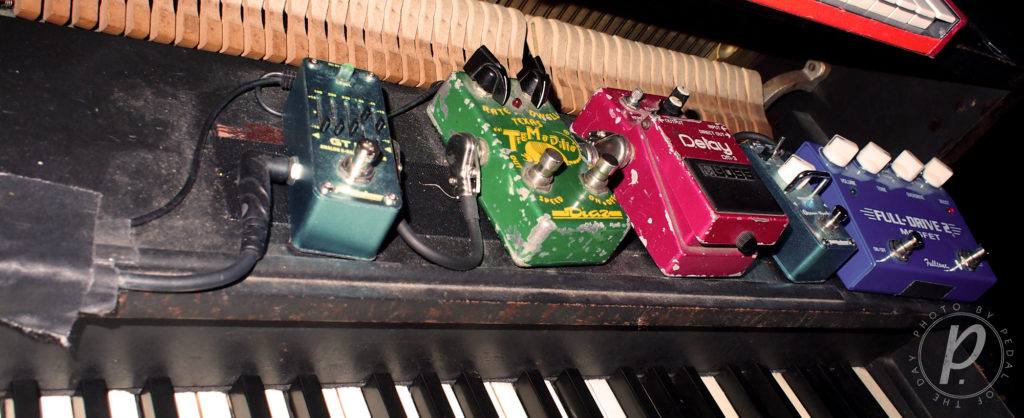 [POTD] Back to pedals: What's your favorite? what are you what are you running right now?
[MB] I've got essentials. Three essential for me are distortion, delay and tremolo. My most favorite delay – I have like four or five of them – I think it's in the 80's that Boss made this, it's called the DM-3. It's a sort of pinkish red, and you can get this sweep, you know, and I do that a lot in this band, and every band I'm in. You get this totally overblown sound, it's just gnarly and weird. I have an old RAT pedal that just works all the time, and I have the Fulltone, the blue pedal, the Fulldrive, I think. I use that a lot. Yeah. With the Duo, that was a big thing on the Wurlitzer. And I have them on the piano. And tremolo is like, I'll take whatever. I actually when I was on tour, my tremolo pedal broke, so I went to a random store in New Orleans – I was on tour with Garage A Trois – I was like "I just need a tremolo pedal, what've you got?" and he had this Tremodillo, the Diaz one or whatever, and that's amazing. I love it. Fulltone makes a really good one, too. They have a big sort of black tremolo pedal, that's like my second choice.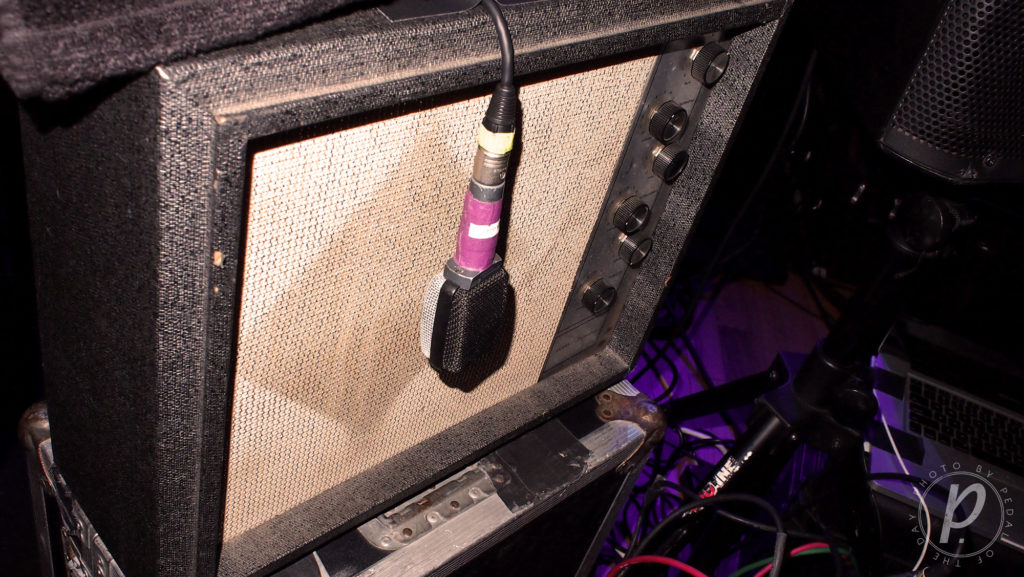 [POTD] So, that said, if you were stranded on a desert island, and you could have three instruments, three amps and three pedals, what would they be?
[MB] Well, definitely a piano. I would definitely have a Silvertone. Probably the one I have upstairs, sort of small one, the 1492 or something, I forget which. Great tremolo on that amp. And there's like three inputs on it. I think it's from the 60s. And then the Silvertone Twin 12. The bigger one you know I want those. I'd definitely want a Hammond. I gotta say, there's a really amazing amp that you can't really use live because it has such a small speaker. It's made by a company called Magnecorder. It was actually made in the early 40s. They used them as like field recorders, you know, in the early 50s. You'd have your amp in one suitcase, and then in your other suitcase would be a reel-to-reel recorder. So you have your real reel to reel recorder and your microphone and you record whatever, and then your playback was this Magnecorder little sort of it's almost like a rock unit. And it has this little like. I don't know. Six inch. Speaker in it but it's it's a Magnecorder PT6, or something like that. I've got two of them and I've used them live, but in the studio they're amazing. I put a mic on that little speaker – having a little speaker is really essential, you know, for that sort of thing. So, the Magnecorder, two Silvertones, Hammond, Wurlitzer, easily a Wurly. And then pedals? I would say the RAT and the DM-3 and the Tremodillo, probably.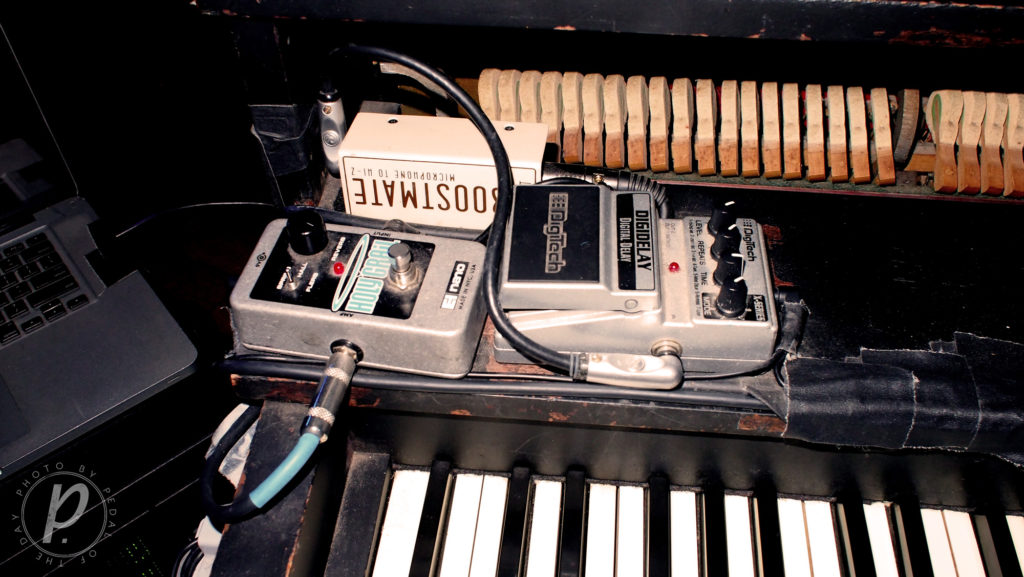 [POTD] You know about the Klon? Are you pro-hype or no?
[MB] I've seen them on a lot of guitar players pedalboards, and they're like crazy expensive, right? I've been slightly turned off by the price, and I'm also a keyboard player, so it's a different thing. Things work differently for keyboards. I've never had one – I've seen them around and my friends have them, but I haven't messed with it. I do want to hear what it sounds like.
[POTD] What's next for you guys? Is this tour almost over?
[MB] Tour's almost over, this is our 8th show in a row. We started in New York, we did two nights at the Bowery Ballroom, we did Philly, we did the 9:30 Club in D.C., we did Richmond, Roanoke, Charlottesville and now are here and we're headed down to Hullaween to play that festival in Florida, the String Cheese festival. And then we come back up and play Charleston, South Carolina and the tour's over. Working on a new record, actually. I'm recording it with this guy Leon Michels who has a studio in Queens called Diamond Mine, and he's recorded The Shacks and Chicano Batman and a ton of people, I think Lana Del Rey and Adele before she was Adele. And it's been fun. Actually, there's been no laptop in the studio, it's all just tape machines. It's just me and the bass player from the Arcs, Nick Movshon, and he also plays drums on it, so my rhythm section on that record is one guy. Working on a bunch of new tunes.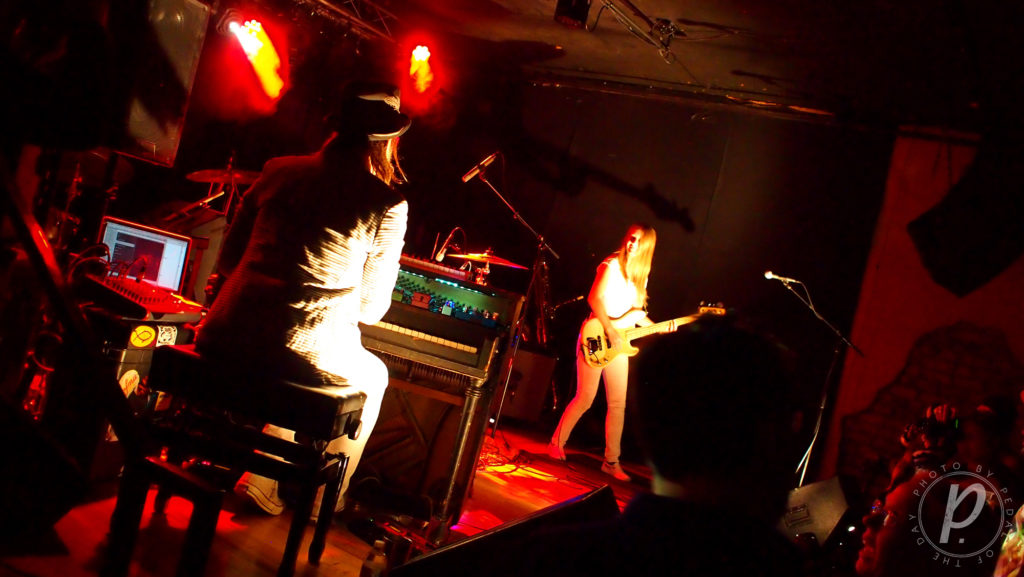 [POTD] JRAD plans?
[MB] Yeah. We stay busy, we do about 40 to 50 shows a year, summer festivals and little runs here and there. I think I think and I think we'll do like yeah we'll just do a little and I don't really know it's out in my head just like a little little three day I kind of spurts. We're doing L.A. and Oakland next month, and we're doing the Dominican Republic Holidaze.
[POTD] Anything else you want to plug or comments or anything?
[MB] I love pedals. I use them all the time. I have too many. I have like a crate of pedals, to the point where I'm like oh my god, I need to stop doing this. It's like the equivalent of Matchbox cars, you know, for adults.
[POTD] Thanks man, appreciate it!
[MB] No problem.
---
Thanks so much to Marco for taking the time to answer some questions! Make sure to go check out marcobenevento.com to see when he'll be coming to a town near you – Cheers!
---
Check out some other recent interviews here:
Ben Deane of Monarch Musical Devices
Alexandre Ernandez of Anasounds
Kevin Wilson of Wilson Effects
---
GET EXCLUSIVE UPDATES, CONTEST INFO, SEE OUR LATEST DEMO VIDEOS AND MORE: