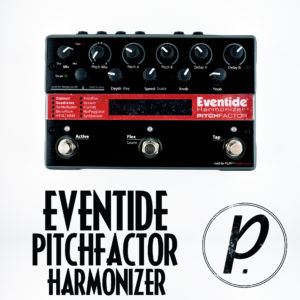 We've been fortunate enough to get to review and demo some excellent gear from our friends over at Eventide, and that is gonna keep going today when we take a look at another marvelous creation from these guys. The PitchFactor is a pitch shifter / harmonizer / octave and so much more, adding layers upon layers of sound into your signal path, and allowing you to create and imagine more than you could before. With synth effects, adjustable arpeggios and even some fuzz, this pedal is covers a lot of ground in a relatively small package.
The PitchFactor features ten different signature mono or stereo pitch and delay effects, with some reverb and fuzz thrown in for good measure. Diatonic, PitchFlex™, Quadravox™, Octaver™, HarModulator™, Crystals™, MicroPitch, HarPeggiator™, H910/H949 and Synthonizer™ make up the list of modes to choose from, each with its own unique sound and parameter flexibility (see the demo video below for sounds and explanations of each). Each effect is affected by 10 different control knobs as well (Mix, Pitch Mix, Pitch A, Pitch B, Delay A, Delay B, Depth, Speed, Xnob and Ynob), which sport differing assignments depending on which mode you're in. Access to these effects and their controls open up huge sonic soundscapes, just waiting to be explored, tested and brought to the masses.
In addition to the fantastic sounds the PitchFactor produces, there are many other options to further your enhancement and enjoyment of this pedal. Scroll through 100 different presets (!), run in mono or expansive stereo sound and use MIDI capabilities for a slew of switching possibilities Aux and Expression pedal jacks give you further control over banks selection, parameter values and more, switch to Line Level for studio and recording work, and even connect via USB for software updates. Not enough for you? There's even a built-in, easily accessible tuner for your convenience.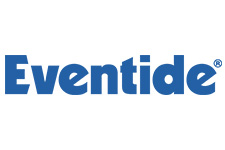 Honestly, there are too many options and settings here to explain in a simple review – this pedal is a manual reader, for sure. We've tried to showcase some sounds from each mode in the demo below, but the fun of the PitchFactor is sitting down and experimenting with it yourself, or with a group of friends, or at an open-mic night, or wherever you happen to be standing currently. Going from subtle and tasteful to far-out, wild and chaotic, the PitchFactor has something for everyone – even if you're not a super pitch shifter or octave player, we bet you can find something fun to use this pedal for. Cheers as always to the crew at Eventide for another excellent effect to explore, we can't wait for the next one to come through the shop!
GET EXCLUSIVE UPDATES, CONTEST INFO, SEE OUR LATEST DEMO VIDEOS AND MORE: