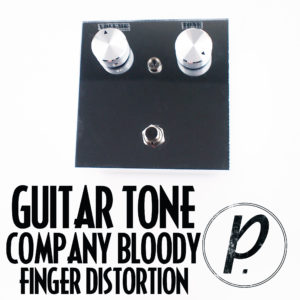 Sometimes, you see a pedal and, for purely aesthetic reasons, say to yourself, "I gotta check this thing out." Well, that's how we've felt about the Bloody Finger Distortion from the Guitar Tone Company (GTC) for some time now, and were super-stoked to finally get our grubby mitts on one. No disappointment here, folks, this guy is the real deal, with a simple control section, and enough power and gusto to bring down the house again and again.
With just two main controls, you might think initially that the Bloody Finger was only capable of two or three sounds, and that's it. Well, here's what makes this plexiglass beauty stand out: the Tone control. All the way to the left gives you a Billy Gibbons kind of sound, while all the way right conjures up visions of Brian May. However, in between these two extremes lies a HUGE range to work with, bringing subtle tonal coloration throughout, all the while maintaining a creamy, harmonic crunch, complete with insane sustain and gorgeous feedback.
Experimentation is the name of the game here, people – mixing and matching variations of the Tone knob with the sheer output power of the Volume knob yields a multitude of useful sounds. The Bloody Finger is excellent for lead runs, tearing up your amp and the crowd's eardrums at the same time, but keeping a clear and concise sound as well. Dial it back just a titch (if you want to, it's not necessary), and quickly explore new worlds of rhythm you've never thought possible. Really unlike anything else we've heard, this is a true one-of-a-kind effects pedal.
Made by hand, one at a time, with the utmost attention to detail inside and out, the Bloody Finger is a true work of art. Keeping it clean and unscathed might be a bit of a problem if you take it on the road, but those scratches and scuffs will just add more character to this pedal. With glowing endorsements from Adrian Belew (King Crimson, Talking Heads), Billy Corgan (Smashing Pumpkins), Reeves Gabrels (The Cure, David Bowie) and more, this plexiglass-covered aluminum gem is getting a lot of attention, and for good reason. Thanks so much to David Harrington, first for creating this beast, and second for sending one our way to check out and put through the ringer! If you are looking for something a slight bit different, but containing all the power, fuzz, distortion and dirt you could want, the Bloody Finger is just what the doctor ordered.
GET EXCLUSIVE UPDATES, CONTEST INFO, SEE OUR LATEST DEMO VIDEOS AND MORE: