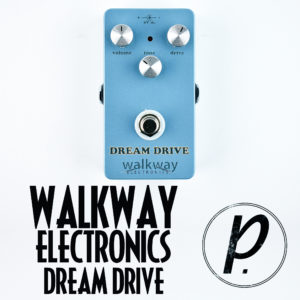 Happy Thanksgiving Weekend, American readers – hope you had a good one! We've got a killer overdrive boost pedal for y'all today, coming straight outta Indianapolis, Indiana. The Dream Drive features a simple enclosure, basic controls and not a lot of frills, but when a drive sounds like this one does, who needs anything else?
Taking its inspiration from classic, overdriven tube amps, the Dream Drive is a uniquely designed circuit created with the goal of offering quiet operation and amazing tone. The Volume knob sets the overall output, while Tone smoothly glides between your high and low EQ frequencies, with a nice range of variation to experiment with. Drive, of course, controls the dirt the Dream Drive produces, from a transparent clean boost to mild/medium overdriven tones, with prominent second harmonics and gorgeous sustain for days.
All Walkway Electronics' effects are designed and assembled in-house, and use top of the line components throughout. A staple overdrive/boost that will fit perfectly onto any pedalboard, regardless of style, the Dream Drive pushes your amp to that perfect sweet spot, while adding sparkle and magic to your overall tone at the same time. Thanks to Joel and Alex and all at Walkway Electronics – stay tuned for new offerings of theirs right here when they're released, and go pick up a Dream Drive right now at an extremely affordable discounted price! Gobble Gobble!
GET EXCLUSIVE UPDATES, CONTEST INFO, SEE OUR LATEST DEMO VIDEOS AND MORE: