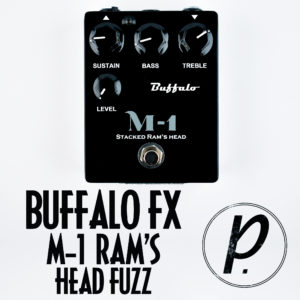 The Big Muff Pi "Ram's Head" fuzz circuit is one of the most well-known, coveted and revered sounds in the history of guitar effects, heard on countless classic albums and in live shows over the past 4+ decades. While the original pedals are expensive and difficult to obtain, there are a number of companies who make tasty recreations of this type of sound, emulating that specific fuzz tone to a T. The M-1 Ram's Head Fuzz from Buffalo FX is exactly one of these creations, and we couldn't be more thrilled to take another look at another killer fuzz pedal.
One difference you'll notice right away from the original Muff to the M-1 is the separation of the Tone knob into two controls, Bass and Treble. This active EQ gives you much more sonic versatility than just having a lone tone knob to work with, adding to the new adventures and exploration you'll have with this pedal. Level sets the output volume, and there's no volume drop when the M-1 is engaged, plus plenty of power on tap to play with. Sustain rounds out the control section, bringing you the sonic qualities of the Muff, but with a slightly less harsh rounder tone, with more midrange.
With 6 total gain stages, each tuned perfectly, you get an enormous amount of gain while maintaining an extremely low noise floor. The EQ here has been modified to make usable at all settings as well, giving you the ability to dial in classic and modern tones alike. With all the controls around noon, you have the boosted Ram's Head tone; add in some more treble and you have a tone more similar to a traditional Ram's Head. Set the bass on zero and treble to taste, and the M-1 produces a soaring lead tone that will cut through any mix.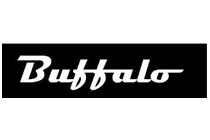 Made famous by such players as David Gilmour (that solo from 'Comfortably Numb') and J Mascis of Dinosaur Jr, the Ram's Head is an iconic effect. and one that has absolutely stood the test of time. With so few originals in existence, and with their prices being so high, it's nice to have excellent reproductions of that sweet sound, with more availability, and at a fraction of the cost. Plus, the new ones don't suffer from the repairs and upkeep needed on the old ones to keep them going strong. The M-1 is one of the best examples we've come across, and really gets into the nitty-gritty of how a Ram's Head fuzz should truly sound. Thanks to Steve and the crew over at Buffalo FX for letting us check this guy out – we've got more reviews and demos of their pedals coming up, so stay tuned, and don't forget to check out the demo below!
GET EXCLUSIVE UPDATES, CONTEST INFO, SEE OUR LATEST DEMO VIDEOS AND MORE: