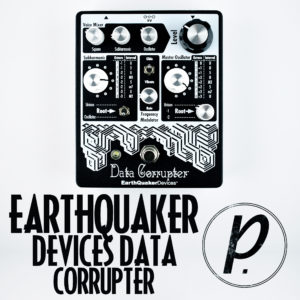 Every now and again, we get an effect coming through our shop that defies all reason, logic and musicality, and those pedals usually come straight from Akron, Ohio. If you don't know by now (all 3 of you), EarthQuaker Devices has been not just pushing, but destroying the sonic envelope for the last decade or so, crushing everyone and everything in its path to total oddity domination in the effects pedal world. Today's pedal might be the craziest yet, but it still can be somewhat harnessed to provide an excellent backdrop to any rig or setup. Here is the Data Corrupter Modulated Mononphonic Harmonizing PPL…
At first glance, you may do a double take, and then feel a tad apprehensive about all of the controls aboard the Data Corrupter…as well you should. This thing takes a bit to figure out, but you're gonna have a blast doing it, trust us. To put it as simply as possible, this pedal "takes your input signal and brutally amplifies it into a crushing square wave fuzz tone that is then multiplied, divided and modulated to create a wild, yet repeatable, three-voice guitar synthesizer." Riiiiight….. We'll try our best to decipher this mystery, but there's no need to tell us if we get it at all wrong, k?
The heart of this beast is the Master Oscillator, which takes its input from one of three sources, unison, one octave down or two octaves down. These "roots" are fed into the Phase Locked Loop (PLL) and multiplied to create different intervals over 3 octaves, that are selected via a rotary switch to create the harmonies, which can then be altered by the Frequency Modulator. This section gives you two modes to select from: Glide, where the pitch glides from note to note, or Vibrato, where the pitch varies up and down, producing some killer laser beam, outer space-types of sounds.
The Subharmonic section is up next, creating a sub-octave of your selected root and dividing it into either intervals over three octaves, the yin to the Master Oscillator's yang. The Voice Mixer section up top gives you volume control over the Master Oscillator, Subharmonic and Square Wave Fuzz tone portions of the Data Corrupter, enabling you to blend them all to suit your specific sonic needs. Using your guitar's neck pickup will result in the best tracking here as well, with clean runs and single notes taking the victory over chords and choppy playing styles.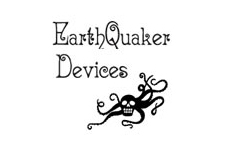 Based on the Electrax Synthax and the "Basic Frequency Synthesizer" by Ray Marston, the Data Corrupter takes elements from those creations, adds in some of their own weirdness and somehow creates an incredibly fun and exciting (albeit wacky) effect. To really understand this pedal, check out the demo below, then forget everything you know about how to make noises come out of an amplifier and go grab your own pedal STAT. While this is definitely not for everyone, those of us who like stuff like this REALLY like it, and, as evidenced by the effects they release, so do the folks at EarthQuaker Devices. Thanks as always to Jamie and Julie and the whole EQD crew for their continued support – more reviews and demos of theirs to come in the near future, believe it!
GET EXCLUSIVE UPDATES, CONTEST INFO, SEE OUR LATEST DEMO VIDEOS AND MORE: