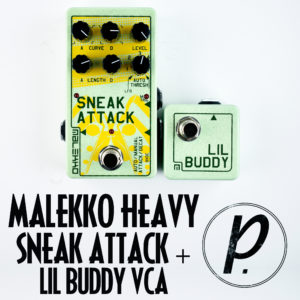 Wacky, crazy, outside the box effects really get our pulses racing here at Pedal of the Day, and today's pedal delivered the goods in spades. Effects that are hard to categorize or identify are usually our favorites, as they represent a new style of thinking and showcase the builders' innovative technique and auditory prowess, which we simply cannot get enough of. The Sneak Attack VCA Tremolo, accompanied by the Lil' Buddy expander trigger pedal, embrace all of these nuances we have come to love in our shop, and can't wait to try and describe this pedal for you all.
The Sneak Attack is essentially a tremolo pedal, but it is also so, so much more. An Attack and Decay envelope generator with control sections for the Length and Curve of both of the aforementioned segments, right there you've already got a wicked awesome effect that is unusual and ripe for experimentation. The envelope portion can be triggered in a number of ways as well: via the input signal, the built-in footswitch, the Lil' Buddy external switch or an external clock/click track. While those options may seem complicated or over-the-top, the actual ease of use with this pedal is not as tedious as you might initially think.
In addition to a Level control, to mix your sound properly, there's a threshold control that multiplies the tempo by 1,2,3 or 4 while in tap tempo mode, which is activated simply by using the main footswitch. Mixing this with the Single Trigger and Cycling modes, plus the multiple controls available via the Lil' Buddy, this pedal is a hotbed of sonic activity just waiting to be unleashed into the universe. Set this control to LFO (Low Frequency Oscillation) for tremolo shapes and envelopes; set it to Manual Trigger mode, and it will only trigger an attack envelope.
One of the funner pedals we've recently had the privilege to review, the Sneak Attack/Lil' Buddy combo is a powerful sonic tool to use in numerous musical scenarios. A bit out there and possibly not for everyone, but if you like to invent, create and throw caution to the wind in your musical endeavors, this effect is right up your alley. Thanks as always to the team at Malekko Heavy Industry for their support, we can't wait to see what they come out with next, and rest assured, we'll let you know all about it.
GET EXCLUSIVE UPDATES, CONTEST INFO, SEE OUR LATEST DEMO VIDEOS AND MORE: