Chris Marlon Jennings
Northampton, Massachusetts
Sun Parade
http://www.thesunparade.com/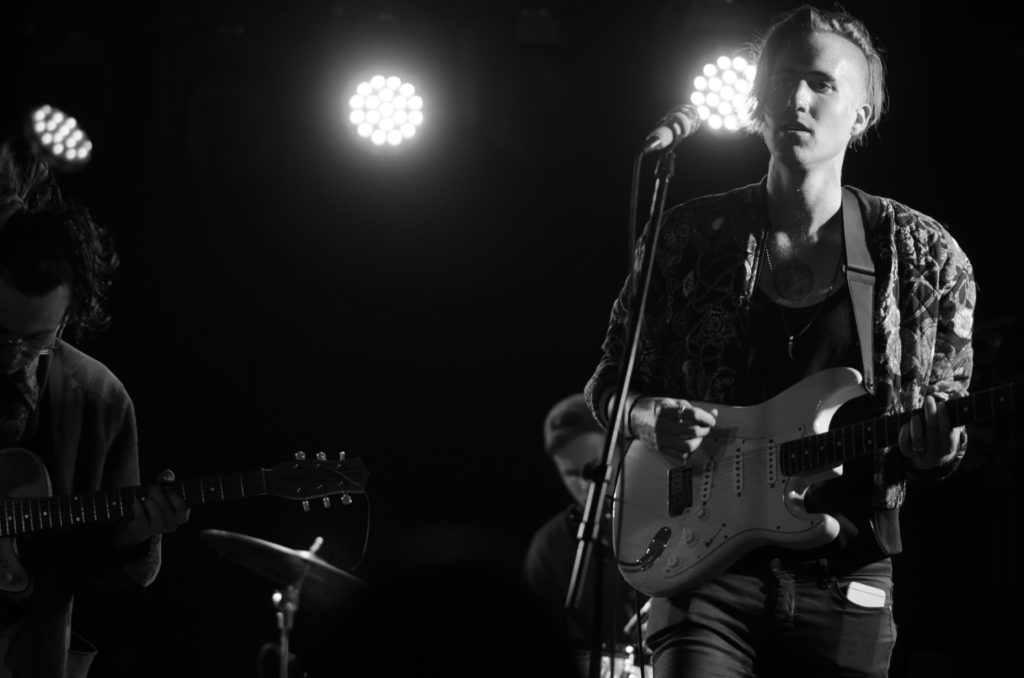 How long have you been a musician? How did you get into it in the first place?
When I was 5, I took some guitar lessons for a little, until I ran away from a lesson. So I guess I started when I was about 12, after I broke my foot during the baseball season and then asked my dad to show me bar chords. I also saw a Sum 41 music video on MTV of them playing in a drained swimming pool. It looked like a fun time. After that I got into Nirvana and was pretty much hopelessly hooked on being a musician.
Who have been some of your major musical influences, past or present?
Beatles since the beginning, Beatles forever. Beatles top everything. For other artists, we got Elliott Smith, Kurt Cobain/ Nirvana, Dr Dog, The Clash, The Congos, New Orleans Soul, Marvin Gaye, most Motown artists, Born Ruffians, Neil Young. I think of myself mostly as a songwriter.
What drew you to using pedals initially? Have you been using them throughout your playing career? How have pedals helped to shape your sound, or influence the style that you've created?
I started using overdrive pedals from the very beginning of guitar playing. I always had a RAT and a Boss Reverb throughout high school. When I went to college for a couple years in Santa Fe and Chicago I dropped off electric guitars and mainly performed with an acoustic and baritone uke. Trying to do the whole singer songwriter thing, always playing solo or with one accompaniment instrument. But in high school I had a band called Nor Whale, we played hard, kinda shoegaze pop, but always had that Beatle style somewhere in it. I played acoustic guitar for the first 4 years of Sun Parade. Jeff and I started it in 2011, we had both recently dropped out of music schools, he was mainly a mandolin player, and was I still quite Folk Poppy. Sun Parade is now a much heavier rock band, no more Psych Folk labels for us. Sun Parade can be hard to label, we get influenced my a lot, get real deep. I can honestly say pedals have played huge roll in our progression, I personally only play with 4 and a vocal processor, but I wouldn't have been able to express myself in the songs on our new album Shuggy Mtn Breakdown without learning how to use my pedals well. FUN STUFF!
What's your current setup look like? Take us through your pedal rig (feel free to include amps and instruments as well if you'd like):
I play an American white Strat and Epiphone Riviera into a Boss tuner, into the old RAT (still playing the same one from high school), then into a MoogerFooger or MF Moog overdrive. The Moog is my favorite, it's pretty new, I keep my Fender Twin Reverb amp very low, never past about 2.5 and always have the Moog on turned up loud. Its a very dynamic pedal, the knobs are sensitive so you can get a lot of different sounds out it. We actually used it a lot recording our latest record. Next in the chain is an Ibanez Tube Screamer, I think from the 80's. I use this pedal for a subtle boost, or more of a thickening agent. I keep the drive all the way down and the volume all the way up. The RAT is for my sick nasty solos…haha… Jeff actually takes all the nasty solos. Its my super boost. Last is a Boss DD-6 Digital Delay, this was a staple of my friends growing up, so Jeff and I made sure to get a couple of this model when we switched to being all electric. DD-6 is the only model with warp mode, it's sweet stuff. I also use a Boss VE-20 Vocal Processor live. I mostly just use the preset doubler. I probably could have gotten a cheaper one, but all the options come in super handy live.
Favorite type of pedal (drive, delay, fuzz, etc. – more than one answer is always acceptable!):
Probably overdrive, over all. Trying to get classic tones. I know I want to get a phaser pedal next.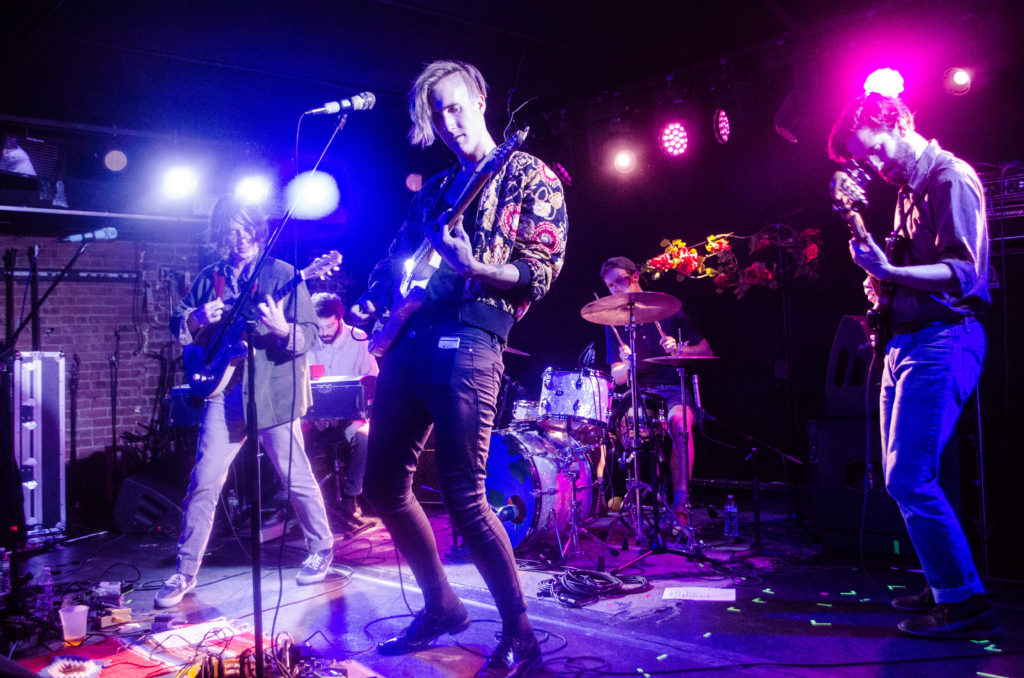 You're stranded on a desert island – which three (3) of the following do you want to have?
If I was actually stranded on a desert island…if I was being fed and had some beer… I would want…
Instruments: 60's Ludwig drum set, a parlor piano and a nice fat Gretsch hollow body.
Amps: Epiphone Gemini, all my guitars on the album are through this. Fender Bassman with a big cab, Supra new reissue. I just want to try that last one really.
Pedals: I really don't know, that's hard. I like my MF Moog overdrive, I heard the delay in that series is sweet, I'll take that with me. And one insane distortion, I like my friend's JHS Pollinator.
What's up next for you/your band(s)?
Up next is continuing touring Shuggy Mtn Breakdown all over! Maybe record another album this spring.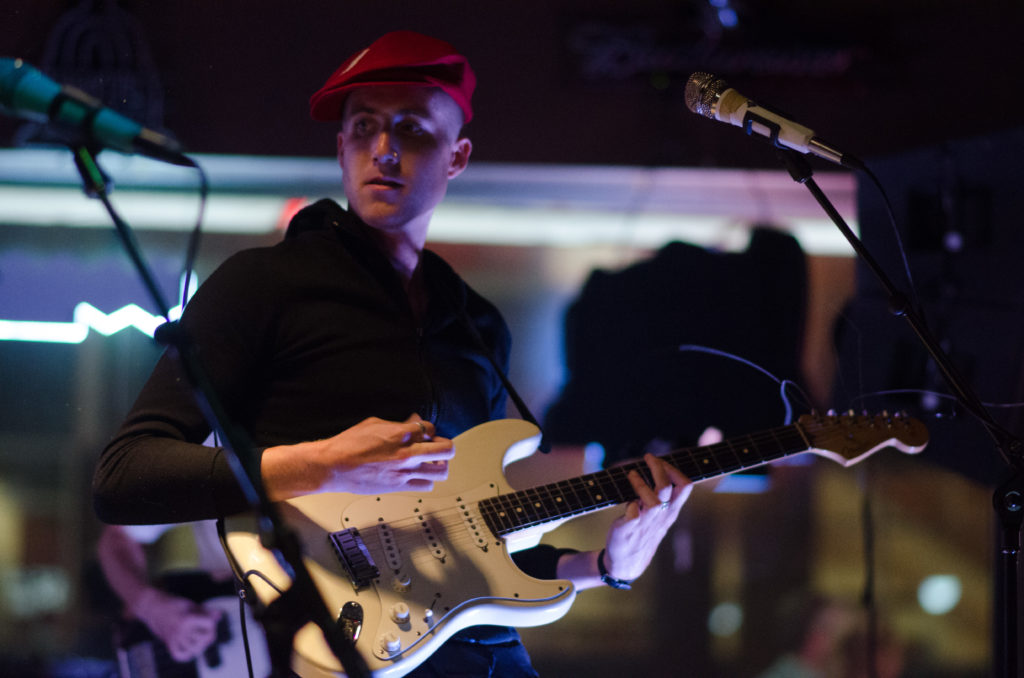 The Klon hype: Love it or Hate it?
I honestly don't know what Klon is… what's the hype?!
Any last comments, promos or anything you'd like to talk about?
Check out Shuggy Mtn Breakdown!! It's out everywhere! Produced by Ian Hersey.
---
Thanks so much to Chris for taking the time to answer some questions! Make sure you head over to www.thesunparade.com, and check their tour page to see when they're headed to a town near you! Cheers!
---
Check out some other recent interviews here:
Matt Olson of Mattoverse Electronics
Woody Weatherman of Corrosion of Conformity
Karina Rykman of the Marco Benevento Trio
---
GET EXCLUSIVE UPDATES, CONTEST INFO, SEE OUR LATEST DEMO VIDEOS AND MORE: