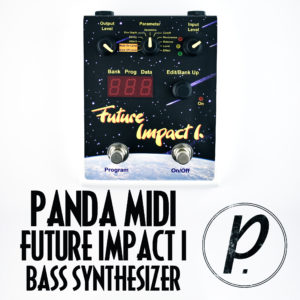 While we don't often do many bass pedal reviews (sorry, guys), we've got a pedal today that guitarists AND fans of the low end will appreciate and marvel in. Based on the famed Akai Deep Impact SB-1 Bass Synth, the Future Impact I is also a bass synthesizer pedal, offering more options and parameter controls than the the Akai, but all the while staying true to the sounds it has become famous for creating. Ready to take a ride on a monster space-infused sonic trip through the cosmos? Let's go!
Unlike its predecessor, which featured just 9 preset sounds, the Future Impact I boasts 99 of them, available by scrolling through 10 different banks. Each of the sounds contained in the banks have 11 parameter controls as well: Not On Level, Note Off Level, Attack, Decay, Envelope Depth, Dynamics, Cutoff, Resonance, Balance, Level and Effects. These parameters allow you to fine tune each and every one of these 99 sounds, with values that range from 1 to 10 on each, with the defaults being set at 5. You can leave the presets where they are, or go in and dig around to tweak and mold the sounds into the sonic shapes you want to be present in your signal path.
The Future Impact I also features 4 multi-waveform oscillators running at 512 kHz, which produces an extremely clean signal. The true bypass switching leaves your original tone in tact when the effect is bypassed, and the MIDI control lets you edit the programs via a desktop computer editor, available for both PC and Mac platforms, as well as perform software updates. Internally, the circuits range from harmonizer to pitch converter to EQ to delay to filters and more, expanding upon the foundation laid down by the classic Akai Deep Impact.
One possible downside to this pedal for casual players might be the price, which ranges between $450-500 USD. That said, a used Deep Impact, possibly needing work and probably not as reliable, go from just over $600 up to $1500 and sometimes even higher. While that's a pretty crazy price that not a lot of us can afford, getting the same types of sounds in a smaller enclosure that you're sure to be able to count on for less money might just be the way to go, and that's precisely what the Future Impact I offers.
Being huge fans of the band Phish, we've been hearing the sounds of the Deep Impact oozing out of bassist Mike Gordon's rig for over 20 years, and though he still uses one, he too has picked up a Future Impact to use alongside it (Paul Taylor of Jamiroquai and Chris Wolstenholme of Muse are users as well). Even if you don't play bass, you might want to grab one just so you can noodle around with it for hours. However, true bass players will appreciate, embrace and relish the sounds that this little box can create, exploring it's every nook and cranny and finding just how useful and important of a tool it can become on your pedalboard. Thanks to PandaMIDI for the chance to check this out – this just might inspire us to start adding more bass pedals into the rotation, so please comment any suggestions you'd like to see below, and don't forget to check out the demo video!
GET EXCLUSIVE UPDATES, CONTEST INFO, SEE OUR LATEST DEMO VIDEOS AND MORE: