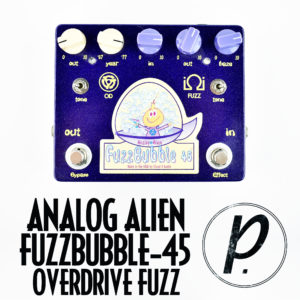 We love a good dual effect pedal around these parts, and the pedal we're taking a gander at today features two beloved tones in spades. The FuzzBubble 45 from Analog Alien is an overdrive and fuzz in one, combining a couple of classic sounds into one pretty purple box, and giving you all the dirt you can handle. Giving you multiple tonal options ranging through a lot of years past, this beast is sure to have you sounding like your guitar heroes in no time flat.
The Overdrive side is designed to sound like a vintage tube amp from the 60's and 70's. The simple control section features an Out(put) knob for setting your level, a Year knob that controls how much gain you send to the circuit, and an In knob, which sets your instrument's input level, controlled by your Volume knob. There's also a small toggle switch labeled Tone, which cuts out some of the lower frequencies – helpful depending on what your pickup configuration is, or if you're going for a particular kind of sound.
The Fuzz side is a simple but killer fuzz face-type of effect. Here, the In (used in both modes), Out and Tone parameters are exactly the same as they are on the Overdrive side. The Haze knob determines the intensity of the fuzz saturation, and works with the Input control to further shape your sound. The circuit is nice and meaty as well, making sure your tone never sounds too thin, no matter what your settings are.
You can use these two modes independently or together, for a whole cornucopia of sonic bits and pieces to play and experiment with. Setting these two sides just right to work with your rig, coupled with the use of your guitar's volume knob, makes for a match made in auditory heaven, and may just replace a couple of pedals on your current board as well. We're looking forward to working with Analog Alien here in the near future on some more reviews and demos, so make sure you check out their website, as well as our demo video below. Cheers!
GET EXCLUSIVE UPDATES, CONTEST INFO, SEE OUR LATEST DEMO VIDEOS AND MORE: