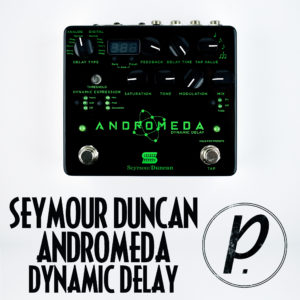 Delay is pretty much our favorite effect around here, from a slight slap back to an endless echo through space and time, and today's function-filled pedal takes us on a journey that covers just about all the bases you need in the delay world. The Andromeda from Seymour Duncan is labeled as a dynamic digital delay, but there are wonderful analog aspects present here, too, plus some modulation, MIDI stuff and more. A real all-in-one delay pedal, this one stretches it out to the outer rims of the galaxy and beyond…
Right away, you'll notice the Delay Modes are separated into two sides, Analog and Digital. Within these two are four settings to choose from: Normal, Ping Pong, Reverse and Reverse Pong. Parameters you use to adjust these modes include Feedback (repeats), Delay Time (up to 5 seconds) and Tone, which darkens or brightens the repeats. Set your note tap value with quarter, eighth, dotted eighth or triplet subdivisions, add in some chorus/vibrato via the Modulation knob, or get down and dirty and add in some grit using the Saturation control as well. A Mix knob lets you seamlessly blend your wet and dry signals, too.
You want more features? You got 'em! Choose the level of Dynamic Expression you want (Hard, Soft or none at all) and the parameter which you want to apply it to (Mix, Modulation or Saturation) and set the intensity with the LED-infused Threshold control, for wide variations in tonal output and texture. Set the tempo via the onboard Tap switch, or hold it down and get into the Presets and Banks, which feature a total of 128 presets to manipulate and select at will. Connect to your computer or DAW via the MIDI In and Thru connections, run a sweet stereo setup from the Stereo Input and Outputs, and there's even a Trails switch that allows the repeats to smoothly fade into oblivion once the Andromeda is bypassed.
With so many options and warm, clean and crystal clear delay tones (unless you want to make them dirty, which is easy, too), the Andromeda Dynamic Digital Delay from Seymour Duncan squeezes a TON into a very pedalboard-friendly enclosure. The simple layout and ease-of-use make it great for veteran players and beginners alike, and there's no shortage of exploration for either once you plug this guy into your favorite amp. Sure, there are other bigger delay that have a couple more features, but a pedal with this small size being so option-laden and not too tricky to figure out, it's hard to find anything comparable. Be sure to check out the demo below to hear a little taste of what it can do, and we'll see you soon!
GET EXCLUSIVE UPDATES, CONTEST INFO, SEE OUR LATEST DEMO VIDEOS AND MORE: