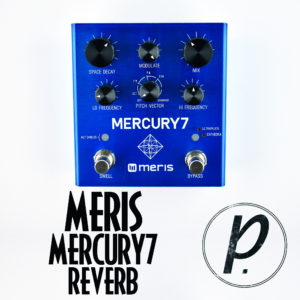 Ambient reverb pedals have been all the rage over the last few years, and today's featured pedal stands right up there with the best of them. The Mercury Seven were the first group of American astronauts to be chosen to go to space, way back in 1959, and the Mercury7 Reverb pays homage to their journey into the unknown. An options-laden reverb pedal that sends you high into the atmosphere, with no real knowledge of if you're ever going to make it back, this effect will take everything you think you know about ambience and turn it completely upside down.
Inspired by the soundtrack to one of the greatest films ever made, 1982's Blade Runner, the Mercury7 is full of slow-moving, ethereal tones that slip effortlessly into your subconscious, repeatedly creating waves and washes of sound the likes of which have never graced your auditory canal before. Using spacious delays and lush modulation, the sky doesn't even come close to the limit as to what you can achieve sonically while dabbling in the Meris arts. Space Decay sets the decay energy of the reverberation space, while Modulate sets overall modulation depth of the reverb algorithm. There's a Mix knob that blends your wet and dry signals, too.
The Pitch Vector knob is brilliant, really opening up what the Mercury7 is capable of. This control sets the intra tank pitch interval, and allows you to select from octave down, slight pitch up, slight pitch down, 5th up, or octave up modes. The Lo and Hi Frequency knobs control how their respective frequencies react in the reverb algorithm, with the Decay, Pitch Vector, Mix & Hi/Lo Frequency controls all interacting to sculpt the intra-tank pitch regeneration. These parameters all have secret secondary functions, too, via the ALT (HOLD) button, if you really want to delve in and set the pedal to perform to your exacting specifications.
The left footswitch is Swell, which engages the auto swell function. If you hold this one down, you'll maximize the Space Decay sustain, something we all want to be able to do. The small LED on the right side indicates the active algorithm, letting you choose from Ultraplate (inspiring & lush plate with a fast build) or Cathedra (massive & ethereal algorithm with a slow build). These two both present unique opportunities to coax even more out of the Mercury7, with distinct flavors in each, and no shortage of experimentation ahead.
Add in extra features like stereo inputs and outputs, switchable input output headroom level for guitar, synth or line levels, expression pedal control over all parameters simultaneously, the ability to control presets available via external 4-Preset switch or MIDI, MIDI in/out over TRS via the EXP jack, premium analog signal path and 24-bit AD/DA w/32 bit floating point DSP and a premium Analog Devices JFET input section, and there's not much missing from this pedalboard-friendly bright blue beauty. With the opportunity to explore new musical directions and get lost in a vast sonic soundscapes, you'd better set an alarm on your phone to ensure you don't fall too far down the wormhole and lose a week or two without even blinking. We've got some more reviews and demos of more Meris gear coming up soon, so stay tuned, and be sure to check out the demo below to see a smidge of what this pedal can do!
GET EXCLUSIVE UPDATES, CONTEST INFO, SEE OUR LATEST DEMO VIDEOS AND MORE: