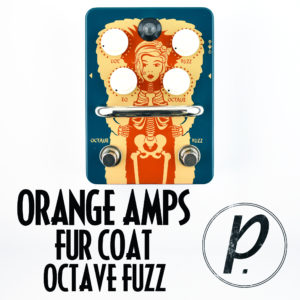 After checking out the new Getaway Driver from our friends at Orange Amps a couple months ago, we were excited to plug in the Fur Coat, another new effect in their lineup. This monster is a vintage fuzz loosely based on the Foxx Tone Machine, with an added octave option, for full tonal control and all the dirt you can handle. User-friendly controls and aesthetically intriguing artwork make this one fuzz that's sure to please…
Four simple but effective parameters make up the control section of the Fur Coat. Volume sets the overall output signal strength, while EQ allows you to boost or cut your highs and lows, and the spectrum here is wide and full of differing options. Fuzz sets your dirt level, and also boasts a tasty range of tones, a ton of sustain and all the classic fuzz sounds you've been searching for. Hit the left footswitch to activate the Octave mode, which mixes directly in with your fuzz, and use the knob to set how much octave up you want present in the mix. Experimenting with the Octave and Fuzz controls, setting them at different points and exploring how they interact is what this pedal is all about, and as you'll see and hear in the demo below, the possibilities for what you can create using these simple knobs is pretty astounding.
The Fur Coat is also the only True Bypass pedal in Orange's lineup, and is suggested to be placed at the front of your signal chain. Placing it further down the line will give you a more distorted sound, though, if you want to go that route. Overall, we couldn't really find a bad sound coming out of this guy – the lows stay present, the octave isn't overbearing and the classic rock flows like an icy cold brew on a hot summer day. Cheers to the crew at Orange Amps for another rad, dirty, grungy creation – here's hoping that more of these types of pedals continue to come out of Borehamwood, England for years and years!
GET EXCLUSIVE UPDATES, CONTEST INFO, SEE OUR LATEST DEMO VIDEOS AND MORE: