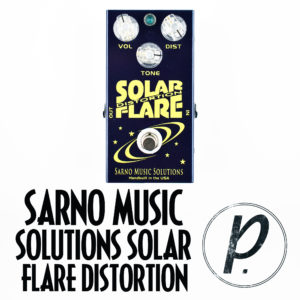 The Earth Drive from Sarno Music Solutions was one of the best drives we had the pleasure of reviewing lately, so we were equally stoked to check out its big brother, the Solar Flare Distortion. Featuring another user-friendly control section and a whole slew of killer tones to drive your amp, this second offering from Sarno lived up to expectations, and then some. Get ready to blast some eardrums and rock some faces, this is the Solar Flare…
If you're looking for classic 70's rock sounds in one box, you've come to the right place. The Solar Flare is a 100& analog, hard-clipping distortion pedal with a HUGE range of flavors to satisfy even the pickiest of players (you know who you are). Reconfiguring the circuit with a bit of modernness, this distortion brings out more richness and warm tonal quality than its past predecessors, allowing you to really broaden your tonal horizons and find the sweet spot in any amplifier.
The usual suspects in the knob department are present here – Volume, Tone and Distortion. Covering a wide spectrum of dirty tones, the Dist knob will do slight overdrive, crunchy and dirty and all the way up to full-on powerhouse distortion. The Tone lets you get intricate and precise with your EQ, boosting and cutting the Lows and Highs as needed. The sustain is huge here at higher levels, too, making it excellent for lead runs and solos, as well as down-and-dirty chords that ring out for days.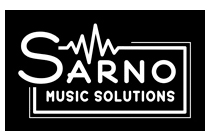 No frills, no nonsense, no B.S. – the Solar Flare is a distortion for the ages, one that will rocket you back to your youth, listening to Styx and Sabbath and Jimi and whoever else rocked your formative years. With crystal clear articulation and defined note production, this is a pedal that will really make you stand out in any band or mix, especially if that damn drummer won't play softer. Thanks to Sarno Music Solutions for letting us check this guy out, we're looking forward to seeing what new sonic creations they've got in store for us all down the road!
GET EXCLUSIVE UPDATES, CONTEST INFO, SEE OUR LATEST DEMO VIDEOS AND MORE: