Johnny Balmer
Location
Chicago, IL
Together, with my wife Victoria, we operate Alchemy Audio
www.alchemy-audio.com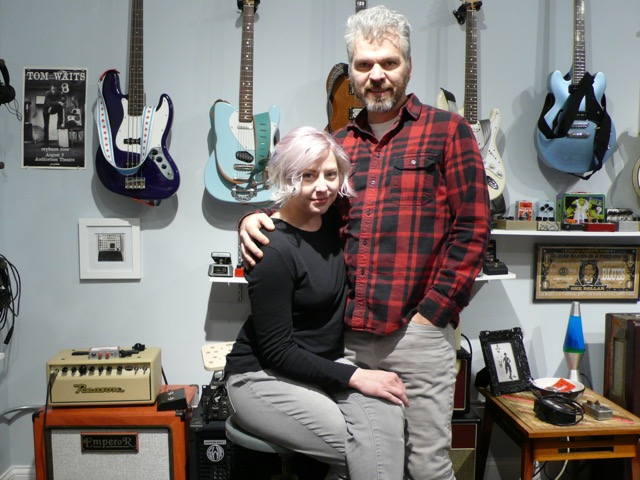 How long have you been a musician? How did you get into it in the first place?
I've been playing electric guitar since I was 14. Victoria has played bass for a couple of years.
Who have been some of your major musical influences, past or present?
I was a metal kid in the 80's. Therefore, when I started playing guitar, it was George Lynch, Warren Dimartini, Eddie Van Halen, Randy Rhoads, Steve Vai, etc. even though I was woefully lacking the ability to play at that level.
Now, I tend to gravitate more toward players like Jason Isbell, Marc Ford, Paul Kossoff, Doug Pettibone, Marc Ribot, Nels Cline and Annie Clark.
What led to the start of Alchemy Audio? How long have you been in business?
I've been soldering and tinkering with electronics since I was a teenager – building stuff from Craig Anderson's book 'Electronic Projects For Musicians'. I started Alchemy Audio about 5 years ago as a hobby on our kitchen table. It grew solely by word of mouth – very organically. Now, our clients include Wilco, Smashing Pumpkins, Counting Crows, Joe Walsh, members of Megadeth, Anthrax, Bruno Mars, Lucinda Williams, John Mayer and more. We are currently a two person operation. Our workshop / showroom is located inside Fort Knox Studios – the world's largest music ecosystem! (http://www.fortknoxstudios.com/)
Did you have formal schooling, or are you self-taught? Take us through that story:
My background is in audio recording and live sound mixing. I attended school in Minneapolis for audio recording and worked at a few recording studios there – as well as running live sound at local clubs. Aside from some introductory electronics courses as part of my audio engineering studies, I'm entirely self taught. Although, I've learned a LOT from practical application. I spent one summer doing nothing but assembling wiring harnesses for a new recording studio. I've always been skilled at troubleshooting and repairing things – whether it was music gear, vintage motorcycles or stuff around the house.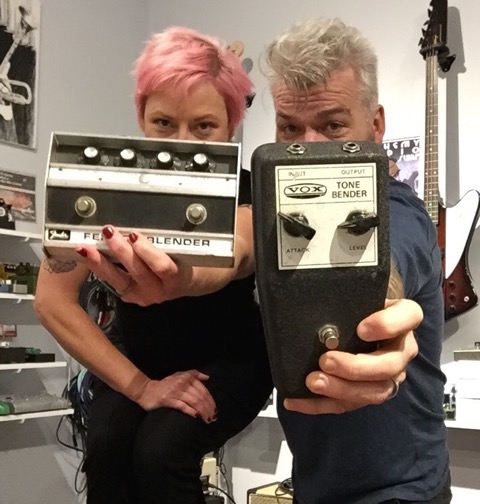 What drives you as far as new pedal creation is concerned? How long does it typically take for an idea to come full circle and become a demo pedal? What's the process behind new gear, and the eventual release of it to the public?
Generally, our work involves repair and modification. When we build pedals from scratch, it's usually from a kit or from verified plans on hand-wired vero board from a site like http://tagboardeffects.blogspot.com/.
I equate what we do to that of a skilled contractor – rather than an architect. Or, a certified mechanic instead of a automobile designer. There are plenty of people out there with electrical engineering degrees designing amazing pedals. We fulfill a niche with fixing broken stuff, "hot rodding" existing pedals and doing more custom one-off pieces – as opposed to offering an extensive, mass-produced product line. We also offer additional services to musicians – such as custom cabling and pedalboard planning, maintenance and wiring. We host an annual musical instrument gear swap every fall at Fort Knox studios – which attracts vendors and attendees from all over the Midwest. We recently partnered with Consequence Of Sound to produce a new web series entitled, 'Sole Kitchen' – where we build a custom guitar pedal for a musician. We have two episodes in the can so far. One features Miranda from Melkbelly and the other features Alex from White Mystery.
We also teach pedal building classes out of our Chicago workshop. We continue to partner with other companies (BYOC, Ceriatone and Aion Electronics) to offer limited runs of their completed DIY kits for those who lack the skills / time / interest in completing the project themselves.
What are some of the biggest concerns facing your profession today?
The simple fact that our customer base is shrinking. Playing a musical instrument, specifically guitar, is an activity that is declining in popularity with younger people. As digital / modeling technology continues to evolve, there will be less production of analog circuitry.
Where do you see pedal building going in the future?
I think there will always be a demand for the companies doing consistently groundbreaking work – such as Chase Bliss and Keeley. I think we have been successful at carving out a unique niche of services (repairs and mods) that many companies are not interested in offering.
Who are some of your favorite builders in the industry right now?
As previously mentioned, Joel at Chase Bliss and Robert Keeley are killing it right now. I also really love my Montreal Assembly Count To Five. I see some pretty amazing builds from hobbyists on some of the pedal building social media forums.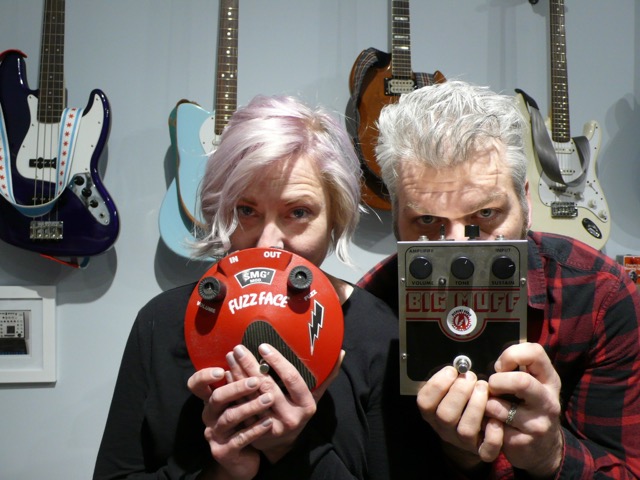 Name the last 5 records you listened to:
1. The vinyl deluxe reissues of Wilco's A.M. and Being There
2. Lucius – Good Grief
3. Jason Isbell & the 400 Unit – Nashville Sound
4. Bully – Losing
5. JD McPherson – Undivided Heart & Soul
The Klon hype: Love it or Hate it?
The Klon-type circuit excels at a specific function – to slam the front end of a tube amp on the verge of breakup. Where I feel it falls short is when the gain is increased. The sound becomes a bit "thin". As someone who has owned dozens of Klones, and compared many of them against the real deal, I can say definitively that many of them can get VERY close to the original for a fraction of the price (the Ceriatone Centura comes to mind). However, if money is no object and you play music for a living, perhaps getting that extra 10% of tone is worth the $2000+ you'll pay for an original.
Any last comments, or anything you'd like to talk about?
The work we do is incredibly rewarding. The fact that we make a living working on the tools which allow artists to create their music is very gratifying. We currently live in a 'golden age' of effects pedals. There have never been as many options available. Unfortunately, there aren't many people who fix them when they break. Even less can do it properly and with a high standard of quality. Also, my wife Victoria's role as a female in this largely male-dominated industry should not be understated.
---
Thanks so much to Johnny for taking the time to answer some questions! Make sure to go check out www.alchemy-audio.com to peruse all of their gear – Cheers!
---
Check out some other recent interviews here:
Joel Korte of Chase Bliss Audio
Matt Johnson of Tortuga Effects
Jamie Stillman of EarthQuaker Devices
Chris Vos of The Record Company
---
GET EXCLUSIVE UPDATES, CONTEST INFO, SEE OUR LATEST DEMO VIDEOS AND MORE: