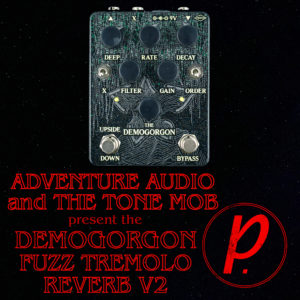 Today's featured effect not only showcases some incredible sonic prowess from the designers, it also gives a nod to one of our favorite television shows EVER. For those of you who marveled in 'Stranger Things' like most of the rest of the world, you'll surely recognize the name Demogorgon, the moniker given to this insane pedal. Blending in elements of fuzz, tremolo and reverb, this beastly monster sounds exactly like you think it would, based on what it's named after: bold, powerful, frightening and nightmarish – but in the best sort of ways, we promise!
Once you turn the Demogorgon on, the fuzz comes immediately into play, and is a constant "on" effect. The controls for this section feature Gain, for setting the amount of fuzz, and Filter, which controls the frequency sweep. Engaging the "Upside Down" switch invokes the Tremolo/Reverb side of the pedal, turning a seemingly traditional fuzz (which it really isn't) into an all-encompassing sonic monstrosity, complete with hair-raising mystery and Thought-provoking obscurity.
The Deep and Rate knobs control the intensity and speed, respectively, of the Tremolo section. Both of these parameters can also be controlled by an external Expression pedal, which we utilized in the demo below, with the "X" toggle switch selecting which one you want to manipulate. The Decay knob sets the overall Reverb time, which follows the tremolo section. An order toggle lets you choose if the fuzz or the tremolo/reverb section come first in the signal chain order. There's even a Volume control down near the bottom, that produces so much boost and sound that you'll have to be a shadow monster or demodog in order to get a handle on the immense power that pours out of this enclosure.
Basically, the Demogorgon is a groundbreaking scientific discovery, one that's sure to entice and excite any musician, but especially ones who are fans of that sweet and beautiful TV series (and the D&D kids as well). Cheers to the crews at both Adventure Audio and The Tone Mob for a pedal that will not only become a collector's item, but one that will truly be used to create and enhance the musical dexterity of anyone who comes in contact with it. Trust us: if you are able to get your hands on one of these things, you can go ahead and cancel your plans to be home by 8, listening to the Talking Heads and reading Vonnegut or something, for many nights to come…
GET EXCLUSIVE UPDATES, CONTEST INFO, SEE OUR LATEST DEMO VIDEOS AND MORE: