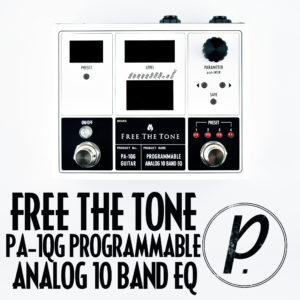 Equalization effects pedals tend to get lost in the chatter, what with so many interesting noisemakers available today. They are, however, an important piece to many rigs, and today's pedal takes it up to a new level in terms of usability and EQ options for your tone. The PA-1QG (there's also the PA-1QB for bass) from pedal innovators Free The Tone has been specifically designed for your guitar setup, integrating the combo of digital and analog to form the perfect sonic union you can imagine.
"This thing is analog?," you might say to yourself, but it is…partly. The equalizer circuits through which the guitar/bass signals pass are all fully analog and contour the rich tones of your guitar/bass as analog signals, with the parameter section being the digital part. This allows you to tweak, process and store your settings (up to 99 presets inside this bad boy), and have access to real-time use via 4 selectable presets and via MIDI as well. Your signal remains untouched by any digital fingers, which lets the full sound of your rig come through and be gently massaged by this powerful pedal.
The 10 bands of EQ (50 Hz, 100 Hz, 200 Hz, 400 Hz, 800 Hz, 1500 Hz, 2500 Hz, 3500 Hz, 7 kHz, 10 kHz) are easily accessible and a cinch to set with a couple of arrow buttons to scroll through and select each one. Use the Parameter knob to adjust the range of each frequency, then hit the Save button when you're done. The nice and big LED shows you exactly where you are in terms of boost amount and overall volume, and the simple number of 4 presets give you a nice base to work with, but one that's easy to swap out on the fly if need be.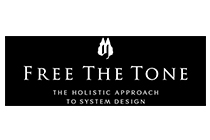 In addition, the PA-1QG utilizes the HTS (Holistic Tonal Solution) circuit, which manages high-quality guitar/bass signals from input to output to keep the sound texture the same whether the effect is on or off. Coming in with 4 factory presets, these sound great right off the bat, but can be adjusted to fit any player and style of music. There's also 99 more available via your MIDI connection, giving you more EQ than you'll know what to do with. Another marvelous masterpiece from the Free The Tone crew, if you're looking to truly fine-tune your sound without sacrificing any tone to the evils of digital processing, don't sleep on the PA-1QG 10 Programmable Analog Band EQ.
GET EXCLUSIVE UPDATES, CONTEST INFO, SEE OUR LATEST DEMO VIDEOS AND MORE: