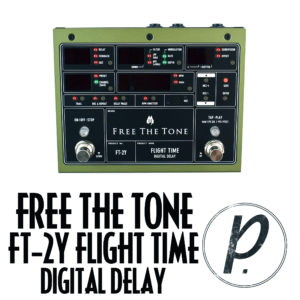 When we had the chance to demo the original Flight Time FT-1Y Digital Delay pedal from Free The Tone early last year, we had no idea that some new features and improvements would be made so quickly, and that we'd have another chance to delve into this marvelous creation so soon. Well, as it happens, the new model is out, and has brought with it a couple of fantastic upgrades and options that every musician and studio engineer who gets their hands on it will love. Let's take a peek at the FT-2Y and see what's in store, shall we?
While the control layout is much the same as it was in our earlier review (check it out here for all the Flight Time's functionality and control layout info), there have been a couple of significant additions to the Flight Time for this latest version. The first major update is that you now have the option to switch between Instrument and Line Level modes, allowing it to play nicely with your amp's effects loop, where a lot of players tend to place their echo effects. Instantaneous switching between Preset 1 and Preset 2 is also available, giving you 2 vastly different delay options in the blink of an eye. There's a new MIDI Out feature here, too, in addition to the MIDI In and Thru that were present in v1. Now you can backup your presets to external storage, as well as still having the functionality to control your presets with a MIDI controller. They've also improved upon the analog circuit, the digital control and even the power supply along the way.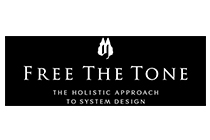 The sound quality really stands out here, too, as you can hear the improvements they've done taking shape and producing some of the most gorgeous delay sounds we've ever come across. Plus, with 90 user presets in addition to the 9 factory presets available, modulation and filter controls and subdivision choices for days, you basically have access to any delay or echo sound you want in one futuristic-looking enclosure. Once again, we do wish that it had become a stereo pedal, but for how good it sounds and performs, we really didn't even think twice about it, and just relished this latest incarnation of a sweet delay effect. Cheers to everyone at Free The Tone for somehow improving on what we thought couldn't be improved upon – as always, we can't wait to see what these guys have got in store for us all in the near future as well!
Specs:
Number of Presets : 99 (User Presets: 90, Factory Presets: 9)
Input Impedance: min. 500 kΩ
Output Load Impedance: min. 1 kΩ
Max. Input Level: INST +2 dBm / LINE +13 dBm
Terminals: Standard 1/4″ phone jack (IN, OUT, HOLD)
Power Supply: Dedicated AC adapter
For USA: FA-1220D-JA
For UK: FA-1220D-UK
For Europe: FA-1220D-EU
Power Consumption : DC12V, approx. 400 mA(max).
Dimensions: 146W x 120.5D x 57H mm (incl. protuberances such as jacks)
Weight: approx. 560 g (excl. accessories)
GET EXCLUSIVE UPDATES, CONTEST INFO, SEE OUR LATEST DEMO VIDEOS AND MORE: