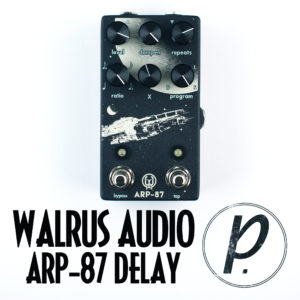 The crew at Walrus Audio are no strangers to killer delay sounds (see our Bellwether review here), so we were beyond stoked when the announcement of their latest, the ARP-87, was unleashed on the world. Taking the great stuff we love about multiple delay sounds and putting them all into one pedalboard-friendly effect, this multi-function delay box displays many sonic abilities with ease and tranquility. Be sure to set your phasers delays for stun, this is gonna be one wild space ride…
You know what Level and Repeats do, so we'll just move on to the more important stuff in the control section of the ARP-87. Dampen is more or less a tone control, using a low-pass filter to brighten or darken the repeats. The Program selector knob is where the ARP-87 gets down to business, allowing selection from one of 4 delay programs (Digital, Analog, Lo-Fi and Slap) to use in your arsenal. Digital brings you crystal clear repeats, Analog adds in a little warmth and warble, Lo-Fi gets a little crazier, warped and murky, while Slap gives you all the chicken-pickin' tones you can handle. The "X" knob works with these 4 programs, too, adjusting the Modulation Depth in Digital, Analog and Slap modes, and controlling the Filter width in the Lo-Fi setting.
You control the actual delay time via the Tap soft switch (the Bypass switch is soft as well), and they're a jack on the side you can use for an external tap tempo switch as well, if need be. The ARP-87 has the ability to be run in Trails or non-Trails modes, and you can even press and hold the Bypass switch when the effect is off to temporarily activate the delay, for quick bursts of sonic texture anytime you want. Want more? Press and hold the Tap switch, and the feedback level ramps up to maximum effect, adding yet another tool to this tone-shaping beauty.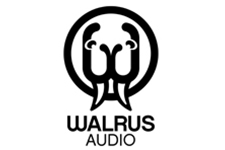 Where the Bellwether was a more analog-focused delay pedal, the ARP-87 has a broader palette of sonic colors from which to paint with, exposing your eardrums to a slew of auditory delights, while keeping it all tucked into a perfect-sized pedal. Feature-rich and awe-inspiring, this is an extremely useful, fun and functional delay pedal, one you'll find fits right in with the rest of your rig. Thanks to Colt and the Walrus Audio crew for their continued innovation and exploration, and for giving us a delay that can be used in so many different ways, to create a vast army of echo tones throughout the land. Head over and check one out for yourselves…..NOW!
GET EXCLUSIVE UPDATES, CONTEST INFO, SEE OUR LATEST DEMO VIDEOS AND MORE: