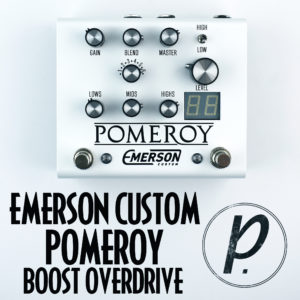 When we started doing reviews for Pedal of the Day, the EM-Drive from Emerson Custom was all the rage, followed shortly by the Paramount, two of the finest drive pedals we have come across, and staples on pedalboards around the world. So, we got pretty damn excited when we heard that the Pomeroy Boost Overdrive was going to be hitting the market, and couldn't wait to check it out for ourselves. Well, the wait is over – a combo pedal of epic proportions, loaded with options galore and tone for days, the Pomeroy has officially arrived…
The Boost side utilizes one control knob and one toggle switch for its operation. The Level knob adjusts how much boost you want coming through, with the maximum output determined by the toggle. In Low mode, the boost ranges from 0-12dBs, and in High mode, those numbers jump from 12-24dBs, basically including any amount of boost you could want or need. Plus, the dB level is shown prominently via the large LED display, so you always know where your tone is set. It's extremely responsive as well, with a wide tonal response, especially when you combine it with the Drive side of the pedal.
Speaking of the Drive side….it features SIX different clipping options available via a rotary switch, and there's truly something for everyone here. Choose from 2 Germanium diodes for symmetrical clipping, 2 Silicon diodes for symmetrical clipping, 3 Silicon diodes for asymmetrical clipping, 1 Silicon diode and 1 LED for asymmetrical clipping, 2 LED for symmetrical clipping or no clipping in the sixth position. Use the Gain knob to set how much dirt you need in accordance with each mode selection, and the Master knob sets the output level for this drive side of the Pomeroy as well. There's even a Blend control, helping add more shaping and articulation to your tone by mixing your original dry signal in with the overdriven tones you're creating, too.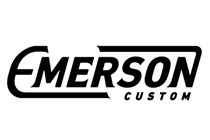 Need more options? You got it: an Effects Loop lets you plug in any other pedals you'd like, and run them between the overdrive and before the boost, opening up even more sonic opportunities to investigate and discover. Featuring a 100% analog signal path, and more boost/drive options than you'll know what to do with, the Pomeroy is one-stop shopping for all your amp-driving needs. Clickless/soft touch true bypass switches make operation quiet as can be, and the top-mounted jacks will ensure it fits perfectly onto any pedalboard configuration you might have. Plus, you can even choose if you want it in white or black – nice. Thanks to Mitch and all at Emerson Custom for their continued support – this is a game-changer pedal here, folks, don't sleep on this one!
GET EXCLUSIVE UPDATES, CONTEST INFO, SEE OUR LATEST DEMO VIDEOS AND MORE: