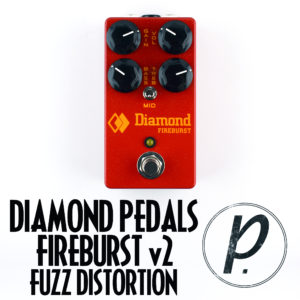 A lot of fuzzes and overdrive pedals have the ability to make some type of clean-ish boost sound, so the option is there if you want it. That option is NOT here in the Fireburst V2 Fuzz/Distortion pedal from our friends to the north at Diamond Pedals. This smaller-sized version of the FBR-1 released a few years back still brings the thunder, but doesn't take up as much space on your board. The second footswitch has been turned into a toggle switch as well, but the killer tones remain completely in tact…
Even with the Gain knob turned down, this baby still packs a punch, not to mention what happens when it gets cranked up – if you're on the hunt for clean-ish tones, you won't find them here. The Bass and Treble controls are welcome as usual, and provide the opportunity to really focus your tone's overall sound and pinpoint that sweet spot that is going to work best for you and your guitar (this is in part due to the Baxandall tone control system inside). When first engaged, the pedal is in Fuzz mode, and fuzz it's got. Loads of sustain take over your signal, and added on top are warm and lush fuzzsaw (that's a word, right?) sounds, from light bumblebee to a flock of hornets, and all sonic intervals in between.
When you hit the Mid-Boost toggle switch, something rad happens: the fuzz transforms into an overdrive. Just like that. Taking away some of the deep fuzz tones, the pedal becomes a higher-gain distortion of sorts. The choice to go from balls-out fuzzy to a smoother drive tone with one hands-free click is awesome, and really makes the Fireburst a 2-In-1 pedal.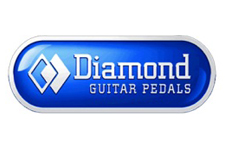 We've been big fans of Diamond Pedals since we first started collaborating with them shortly after Pedal of the Day began, and are excited to continue working alongside one of the best in the business. Thanks again to Aimish and everyone at Diamond for their generosity and pedal donations, companies like you guys are what keep this site going, and there's no way I can thank you enough. Now all you readers, go check out their site and buy some Diamond Pedals!
GET EXCLUSIVE UPDATES, CONTEST INFO, SEE OUR LATEST DEMO VIDEOS AND MORE: