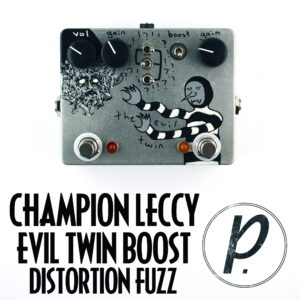 After the thrilling experience we had with the Fat Gett Sub-Octave Fuzz from Champion Leccy a couple months back, we were super-stoked to have another one of their creations on our workbench. Once again, these guys did not disappoint, bringing a fury of thundering, powerful tones representing a number of different genres into the fold.
The Evil Twin actually consists of two of Champion Leccy's Wee Fettle Boosts in one enclosure, with a couple of fun additions thrown in for good measure. The clean boost is superb here, un-coloring, powerful and crystal clear, but you didn't come here for just a boost, now did you? Of course not. Using the Gain knobs on each channel, you can adjust how down and dirty you want your sound to be, with the Evil Twin providing plenty of distortion and fuzz tones.
he toggle switches present here are a unique offering as well. With their only labels being Question Marks and Exclamation Points (aside from the Boost switch), we have no clue or explanation of what they ACTUALLY do, adding a bit of mystery and intrigue into the mix. They're a lot of fun to mess around with, however, that is something we a re sure of. Pairing the different sonic textures these toggles provide with the separate gain stages allow you to experiment for days, and create some original and mind-(and amp-) blowing sounds.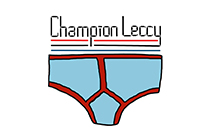 The perfect storm of bad engineering and dark magic, the Evil Twin is not a pedal for the hearing-sensitive, or the un-risk taker musicians out there. Boasting different sounds such as oscillations, octaves, fuzz and feedback, along with boost and distortion tones, it produces a myriad of sonic favors just waiting to be devoured by you and your fanbase. Thanks to the crew at Champion Leccy for sending this guy over for us to check out – head over to their Reverb.com shop now to see what one-of-a-kind creations are waiting for you to investigate!
GET EXCLUSIVE UPDATES, CONTEST INFO, SEE OUR LATEST DEMO VIDEOS AND MORE: