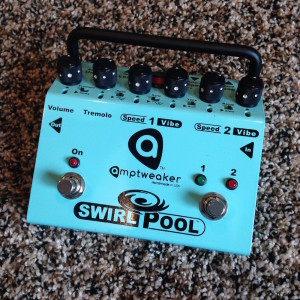 Opening the box to the SwirlPool Tremolo/Vibrato from Amptweaker was immediately daunting. So many knobs and switches, 2 effects loops, a weird fat switch right in the middle: what had I gotten myself into? Turns out, looks can be deceiving…but not really in this case. This pedal has a learning curve, for sure, but it's super fun to figure out, and even more rewarding when you get there.
Right off the bat, I had to dig up an old 18v power supply, plugged it in and was off to the races. Initially setting the knobs (all six of them) didn't quite do it for me, but after a slight bit of tweaking, this pedal opened up beautifully, and set my mind at ease. Since the Tremolo aspect of this pedal is shared by both the left and right sides, or the alternating green and red LEDs toggles by the footswitch, setup was both fun and a bit of a challenge to set up. Basically, you're going between 2 different Speed settings, while adding in elements of the Tremolo to both. There are 6 main control knobs, which follow this order from left-to-right: Volume, Tremolo, Speed 1, Vibe, Speed 2, Vibe. A lot to take in, for sure, but all useful in their own right.
There are also 5 smaller switches that accentuate the SwirlPool's tones that much more. You can switch the Tremolo sound from Smooth to Jerky, for example, giving a pulsing, radical sound to your trem. There are 2 phasing Sync switches as well, which slide LFOs (low-frequency oscillations) between the Vibe and Tremolo effects, opening the door to a bigger world of speed and sounds. You can also change the Ramp speed when switching between Speed 1 and Speed 2 via the last mini switch, producing a Leslie-like slow-down/speed-up effect. What's more, there are 2 different Effects Loops that you can plug other pedals into, vastly expanding the already large and rich sounds of the SwirlPool. And, in case that wasn't enough, you can open'er up and click the internal switch if you'd like to disable the Tremolo section for Speed 2. That way, only Speed 1 will have the Tremolo effect applied to it, rather than both speeds, if you're into that sort of thing.
Sound-wise, this thing is massive. Huge swells and pulses abound, producing distinct sonic flavor combinations through the use of all the different options at your fingertips. It looks daunting, it's a little bit scary and it is rad as hell. With all the options, I do wish there was an external expression control jack for at least on, if not both, the speed sections. But when a pedal is this good, those types of things can be overlooked, plus it doesn't force you to be so lazy, and makes you get down and dirty with your pedals on stage. A great Tremolo, a great Vibrato, and an intense combination of the two – you gotta check out the Amptweaker SwirlPool for yourself.
Specs:
True Bypass switch
Dual Speed switch
Tremolo & Volume Controls
Dual Vibe & Speed Controls
Tremolo 'Jerky' switch
2 Sync switches slide LFOs between Tremolo/Vibe.
Surf Switch for deeper, phas-ey vibe tones
Ramp switch for rotary speaker slow speed changes
Tremolo Defeat Switch for Speed 2
EFX Loop with Pre/Post switch..tracks On/Off Ftsw
2nd EFX loop that works when Speed 2 is active
LED lit knobs when using a power supply
Battery disconnect switch with red indicator
Works with 2-9V batteries or 18VDC supply. WON'T WORK WITH 9V SUPPLY.
DC Adapter jack, standard 2.1mm X 5.5mm, center ground(-)
Magnetic Battery access door opens w/o tools
43mA current consumption(batteries)
62mA current consumption(18V power supply)
Dimensions 5.625″W X 5″D X 2.125″H
Handmade in the USA
Submitted by Mike B, Website
More info at: