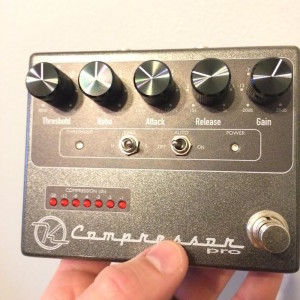 I've been a fan of Keeley compression for about 10 years now. Thats when I first purchased the regular Keeley compressor. It is the only pedal that has consistently stayed on my board for these past 10 years. In fact, it became such an integral part of my "sound" that I didn't turn it off that entire time. Because of this I was almost sad when I saw that Keeley Electronics was discontinuing this classic compressor and releasing the GC-2. But when I first saw the Compressor Pro I knew I would be trying it out.
When the Comp Pro arrived I was very pleased (and not al all surprised) to find that the build quality was fantastic and the pedal looks great. Upon plugging it in I quickly discovered that it sounds even better then it looks. The controls might be a bit intimidating for a compression beginner, but Robert Keeley has done a great job explaining the pedal in the manual and even providing example setting.
To me the most remarkable thing about the Comp Pro is it's versatility. I've never used a stomp-box that truly had studio quality and versatility. I was able to dial in compression tones very similar to my regular Keeley 2 knob compressor as well as tones that were drastically different. Even when trying extreme settings I was hard pressed to get a bad sound out of this unit. I'm sure some people will be disappointed that there is no "Blend" knob but this is a feature that we've only come to expect in the stomp-box world. Most studio compressors do not have (or need) a blend knob. In fact, just like with my studio compressors, I found it VERY easy to get such a subtle and transparent compression setting that you might swear it did have a blend knob.
I found the Compression LED Display to be very useful and I'm grateful to finally have this feature in a stomp-box format. When I fist saw pictures of the Comp Pro I was thrilled to see separate "Attack" and "Release" controls. This greatly contributes to the pedals versatility. BUT I must say that the "auto" mode Keeley has included sounds truly great and is an easy starting point. Another feature that greatly contributes to the versatility and tone of the pedal is the "Hard Knee"/"Soft Knee" switch. With a quick flip of the switch it can go from subtle compression to a much more obviously and punchy compression. All of these features also make this particular compressor a great choice for both Hum-bucker and Single Coil guitars. With a quick adjustment to the knobs, or flip of a switch, even swapping between two very different guitars is no problem.
All of the above was me playing through the Comp Pro with electric guitars and a couple different amps. But ironically enough, I actually purchased this pedal with the intention of using it on my acoustic guitar in live settings. I was able to do a test of that as well, and was again blown away by the results. I was able to get studio-like compression on my acoustic without sacrificing all my dynamics. I found running through this pedal with a relatively subtle amount of compression, actually made me play better and certainly improved my tone.
Now I have the hard choice of deciding where I will use this beast the most… Once again, Well done Keeley!
Submitted by Kenny M, Website, Instagram, Twitter, Facebook
GET EXCLUSIVE UPDATES, CONTEST INFO, SEE OUR LATEST DEMO VIDEOS AND MORE:










More info at: