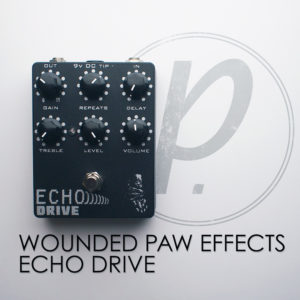 2-In-1 effects pedals are always an adventure, and today's featured pedal takes us on yet another glorious sonic journey. Having previously reviewed the Battering Ram from Wounded Paw Effects, another 2-In-1, we were pretty stoked to be able to check out another one of their marvelous creations. The Echo Drive is a delay and reverb pedal, with additional overdrive on just the delay signal. Basically, your original tone still seeps through, but with delay, reverb and overdrive subtly creeping into the mix for a tone-shaping super-adventure.
Gain sets the overall dirt applied to the delay signal, from clean and crisp to full on distortion. Your original note goes through both the delay and overdrive stages, so each successive repeat is more distorted, creating a lot of distorted drone noises in the process. Repeats control the amount of times the delay echoes, from a single repeat to infinity. Delay, meanwhile, adjusts the delay time from very short, reverb-ish sound to long, drawn-out delays.
The Treble knob rolls the high end off of the delay signal, and produces a dark, analog-type delay when turned down. Level controls the volume of just the delay signal, which gets mixed with the original clean signal. Finally, Volume controls the output volume for the Echo Drive, both the delay and the clean signal together. This bad boy is true bypass, and is turned on and off via the bypass footswitch.
Sonically, this thing is just plain FUN. Not a turn and and go out of the box kind of pedal, this one takes a bit of finesse and experimentation, which is half the fun of all pedals, right? We loved how the clean signal continued to shine, something that all too many pedals don't take into account, and how both the delay and the drive could be as present or subtle as you need 'em to be. Thanks go out to Preston and everyone at Wounded Paw Effects for this guy – if you haven't had the chance, get over to their site and see the sweet lineup of pedals they've got available…and pick one up!
GET EXCLUSIVE UPDATES, CONTEST INFO, SEE OUR LATEST DEMO VIDEOS AND MORE: