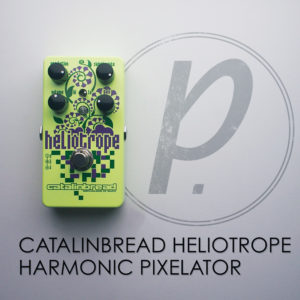 Speaking of crazy pedals….no, for real, today's featured pedal is a real nut, and one we attempted to fully embrace. The Heliotrope is a harmonic pixelator from Catalinbread, and if you're not sure what that is, neither are we. Still. However, it is a must-have box for all musical experimenters, and one that we had an absolute blast trying to decipher.
Basically, a Harmonic Pixelator is Catalinbread's way of telling you this pedal is made up of bit crusher, octave, fuzz, ring modulator and dirty drive sounds, but they didn't want to say all that each time, so they just made this up. It's much easier to say, and sounds exotic and kinda futuristic, too. The controls start off with Resolution, which determines the duty cycle or ratio of on to off time of the carrier frequency, which Catalinbread compares to focusing the lens of a camera, making it as sharp or as blurry as you want. Sample Rate further adjusts the carrier frequency within the given range, while Gain adds in some compression and distortion, for fuzz-y and synth-y types of sounds. The lone toggle is a Hi/Lo switch, changing the frequency range of the carrier frequency, and Volume rounds things out by adjusting the overall output of the effect.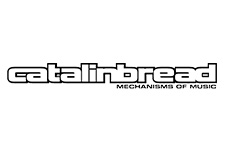 The Heliotrope is a pedal that is awfully difficult to describe, so we're going to let the demo video below do most of the talking here. Another pedal that just screams "Take a week off of work and play with me", this is a sound experimenter's dream pedal, one that will consistently surprise, excite and motivate you to create new and wonderful sonic marvels. The crew one state over from us at Catalinbread continue to knock their pedal lineup right out of the park, and if you haven't checked out their current lineup, head over to their website now to do so. We love these guys, so look for more reviews and demos of their gear coming in the near future!
GET EXCLUSIVE UPDATES, CONTEST INFO, SEE OUR LATEST DEMO VIDEOS AND MORE: