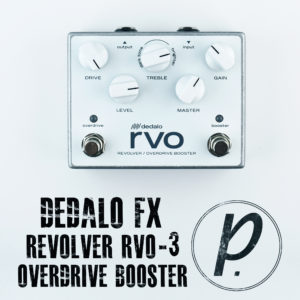 Anyone who reads these reviews knows that we're big fans of 2-in-1 pedals. The effect we're looking at today is a perfect example of combining two great effects together in one pedalboard-friendly enclosure to maximize all the tone available from your instrument and amp. The Revolver RVO-3 is both and overdrive and a boost, working excellently on their own, and sounding just phenomenal when in tandem. The crew at Dedalo FX apparently know what they're doing, so let's take a closer look…
The Booster side features a simple Gain control, which is only in use when the Booster side is active. With up to +20dB of gain for you to use, this function lets you drive a nice tube amp with ease, yet still retains your clean signal marvelously. The Overdrive side features a couple more controls, but nothing too complicated. Drive sets the amount of overdrive, Level is your output control and Treble adjusts the tone of the dirt effect. This knob has a great range, and even when turned towards the dark side, it doesn't get too muddy or dampen your sound, which is always a good thing. Finally, a Master knob sets the output of the Revolver when BOTH sides are engaged at once, allowing for perfect volume control within all aspects of the drive and boost functions.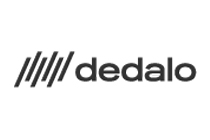 Ranging from a lovely slight boost of your amp to a raging, overdrive-infused sonic throw down, the Revolver is an excellent addition to any rig, getting that clean boost we all sometimes need, and being able to toss a little dirt on our clean signal as well. The size is just right, too, not taking up much more space than your typical Boss-sized effect, making it easy to fit into any rig or pedalboard arrangement. Cheers to the guys at Dedalo FX for letting us check this guy out – we're looking forward to reviewing and demoing many more of their pedals, so check back and watch our social media to see when the next one is coming your way.
GET EXCLUSIVE UPDATES, CONTEST INFO, SEE OUR LATEST DEMO VIDEOS AND MORE: