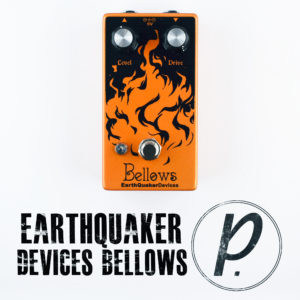 There aren't many companies who deliver the goods consistently with each and every pedal they release, but one that just about has that market cornered is EarthQuaker Devices. From the most complex and innovative pieces of gear to a simple, two-knob fuzz effect (like maybe today's featured pedal?), the musical inspiration their stuff brings out when you play it is almost unmatched. The Bellows Fuzz Driver is a two-knob treasure, a throwback of sorts to non-master volume amps of decades past, which would unleash a powerful overdriven fury when dimed, just the way the Bellows does following in their footsteps.
A unique design not really based on a certain amp or pedal design, the Bellows Fuzz Driver is capable of producing both dirty, gritty drive textures and big, fat, fuzz-filled saturated tones. The Level knob adjusts the output level of the pedal by setting the bias voltage of the transistor, while the Drive knob controls the input gain for a variety of levels of dirt. This also results in some tonal structuring, as the sound is a bit cleaner and sharper when turned down, and increasingly thicker and heavier as you crank it up. The Drive portion fluctuates greatly depending on where it's set, so get ready to do some exploring, as this pedal might hold the key to your future sound.
Even in their simple designs, EarthQuaker Devices finds a way to give us all more of what we're looking for, and the range that the Bellows Fuzz Driver provides is extremely indicative of that fact. Great for bass as well, it gives any tone you put through it classic low end tone, while remaining clear and present in the mix. Thanks once more to Jamie and Julie and the EQD folks for another amazing pedal – we're always finding more EarthQuaker gear in our office, so stay tuned for more coming your way soon!
GET EXCLUSIVE UPDATES, CONTEST INFO, SEE OUR LATEST DEMO VIDEOS AND MORE: