Chris Houser
Dayton, Ohio
The Werks
thewerksmusic.com
We're trying something new today – our first face-to-face Interview! We were lucky enough to sit down and chat with Chris when he was in Boise for Treefort a couple weeks ago, here's what we talked about:
[Pedal of the Day] Where are you guys from?
[Chris Houser] I'm from Dayton, Ohio. Overall, we're just from Ohio – half the band lives in Columbus, so we just say Columbus now, it's the bigger city.
[POTD] How long have you been a musician?
[CH] I've been a musician since I was 12 years old, and I'll be turning 34 this year.
[POTD] Anything in particular get you into it in the first place, or…
[CH] Oddly enough, the reason I started playing guitar was 'cause most of my friends were starting to play guitar, at that age, and I was the one that just kinda stuck with it, but immediately excelled.
[POTD] So you kinda picked it up naturally?
[CH] Yeah, it was natural. Kinda pissed some of my friends off (laughs).
[POTD] Did you ever take formal lessons?
[CH] I never went to any school, really, I took some lessons, but for the most part I just taught myself.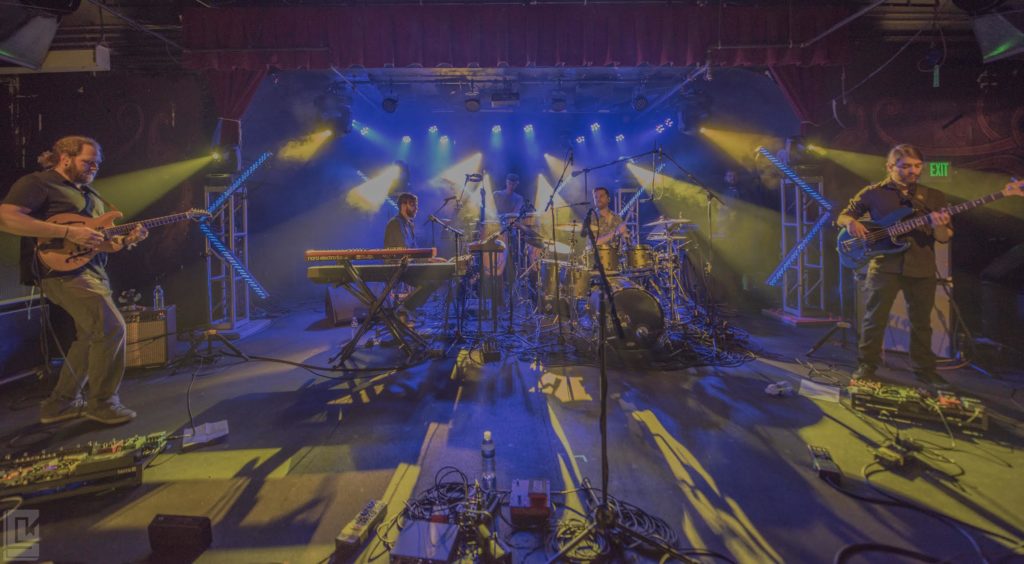 [POTD] Nice. When did The Werks begin – how long have you guys been around?
[CH] We started in 2005, at the University of Dayton, on their campus. That's where I met Rob, our drummer. He had a keyboardist friend, I had a bassist friend and it just happened.
[POTD] Dayton – The Ervin J. Nutter Center, right?
[CH] Yep, the infamous Nutter Center.
[POTD] I saw one of my favorite all-time Phish shows at that venue.
[CH] They just booked another one, 20 years later.
[POTD] That was a ripping show. How about musical influences?
[CH] You just said it – Phish. Trey is a big one, but that's one of my more recent influences. Starting off, it was Jimi Hendrix to Billy Joe Armstrong, Stevie Ray Vaughn to Steve Vai, Zappa – there's not one specific influence that I really rely on.
[POTD] It seems like all of those influences kinda come out in the music – you guys seem to vary your genres a lot.
[CH] Exactly.
[POTD] I like that well-rounded aspect as a band, for sure.
[CH] Thank you – it's important to us, you know, we're fans of many different genres, so…
[POTD] And you don't want to be pigeonholed as just one thing, you want your music to be accessible to as many different groups of people as possible.
[CH] Exactly.
[POTD] How about pedals? Do you have a big setup? Did you start with a cheap Boss Overdrive like everyone else?
[CH] Let's see, what was my first pedal? It was a gift from my step-uncle, he's like "Here, just take this home with you, I don't even use it anymore." Some old DigiTech, it was a red pedal, it had a digital display, but it was really old so digital, it was like a digital clock, with a digital number. It had 2 pedals and I have no idea what it was called, but it had a list on it, and was mainly a distortion/drive/limiter thing. With that pedal, I learned that I could get a really good Jimi Hendrix tone, with a wah pedal and that distortion.
[POTD] Do you use pedals to write the music, or do you write the music and then use them to enhance it?
[CH] I've done both, you know, I've let the notes write the music, and sometimes when I'm just fiddling around at home or in the practice studio, a certain tone hits me and it's like "Whoa, I've gotta do something with that." But for the most part, I don't change tones with my pedals too much on stage – I set the pedals and I usually forget them, and roll back the tone on my guitar. I've had songs written by both, whether it's a certain delay or just a certain arrangement of notes.
[POTD] Can you remember everything in your pedal rig and take us through it?
[CH] Let's see…I have…no, I won't be able the remember all of 'em, I don't think (laughs). It's pretty extensive – start off, we've got a Polytune Nano, then it goes into the Sarno Black Box. From there we go into compression…or do I have compression at the end? I think I have compression at the end. The centerpiece for the board is the One Control Crocodile Tail true bypass switcher. I have all my pedals going into that – a Mesa Boogie Tone Burst, a Mesa Boogie Flux Drive, a Maxon OD-9 or OD-9 Pro Plus, I switch those out all the time. After that, it goes into the DiscumBOBulator pedal from Emma.
[POTD] Love that pedal – one of the funnest envelope filters out there.
[CH] It's a good one, I really like the expressiveness on it.
[POTD] They just released a new one, the Version 2.
[CH] Oh really? You know what, my Maxon rep told me about that, but I have yet to try it out.
[POTD] I think Kevin from Godlyke Distributing is going to send us one to check out.
[CH] Kevin, that's it. Yeah, I got that after they discontinued it, so I'm lucky to have it. The TSA stole the back plate off of it, though, which is pretty disturbing.
[POTD] What? Why?
[CH] I don't know. You don't really get explanations for that shit, unfortunately. It's secure on the board, I think I have it zip tied on there, holding on to one of the bars. Not sure what else to do. From there, I also have a Boss Rotary Ensemble, with the spinning light, and I have a Roland EV-5 expression pedal to control that on the far side. I've got an Ernie Ball Jr. Volume Pedal, the original Cry Baby, a Boss Harmonist, a Walrus Compressor, can't remember the exact name of that…
[POTD] The Deep Six?
[CH] Deep Six, yes, you got it. I think that's it, but I'm pretty sure I'm forgetting just one. It's a full house. I've got a Pedaltrain Grande or Terra, and it's pretty full.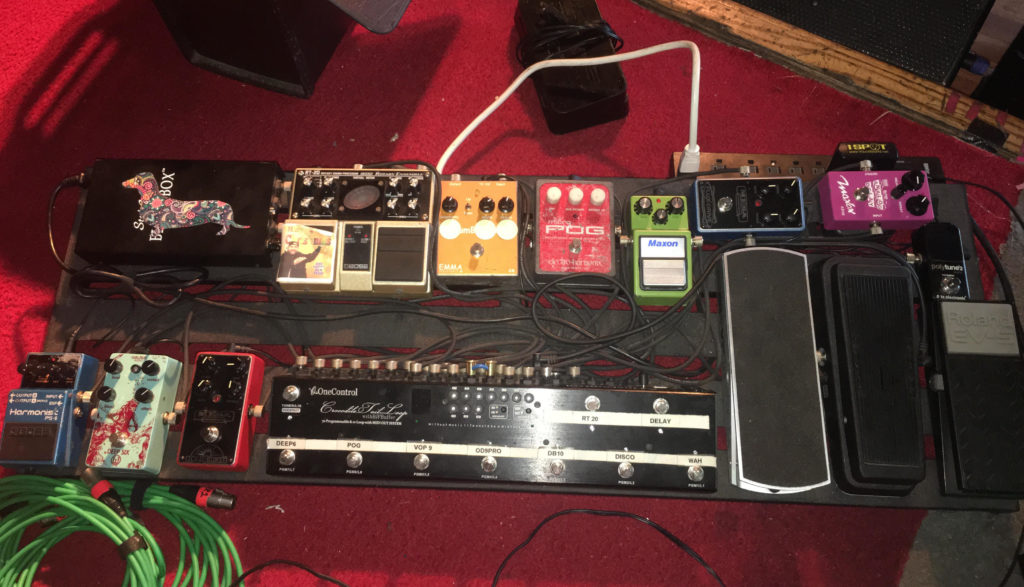 [POTD] What about amps? Guitars?
[CH] I'm using a Godin xtSA right now, that's pretty much the go-to. I have a couple other Godins that are older, but they don't leave the house anymore. As far as backups, I keep the strings properly changed and clean, I try to clean them after every show, to get more life out of 'em, and I haven't (knocks on wooden stool) broken one in a while (laughs).
[POTD] And amps? What are you using?
[CH] I've got a custom Mesa Boogie Mark V combo that's I'm really enjoying. Using a Celestion 90, but I have an extension cab coming on the way because I have to run my Mesa at 45 watts instead of 90 because I've blown two speakers on it already. Oh yeah, I have a POG for octaves, and that's how I blew the speakers. That's the one pedal I forget.
[POTD] So with this big rig, what's your favorite kind of pedal?
[CH] The POG, probably. I love messing around with it, there's a bunch of different sounds you can get. The combination with the POG, a little bit of delay…I have a Maxon delay, also…and the Rotary Ensemble, it sounds a lot like an organ, and that's fun to play around with. I won't be using the octave 'til I get the extension cab, not gonna mess with it right now. The guys at Mesa have been super helpful – they've been amazing to me.
[POTD] You're stranded on a desert island – which three guitars, amps and pedals do you want?
[CH] Ok, so, amps – we'll go with a Mark V, go with a Fender 2×12 Hot Rod Deville and probably a Fender Deluxe Reverb. Pedals, let's see…Cry Baby, some sort of delay, preferably with a tap, and a looper! Guitars, I really like my Godin, the xtSA. I played on a Paul Languedoc guitar just this past Friday and Saturday in Denver. The owner of the club we played at, Cervantes', he owns two of them.
[POTD] He must be doing well.
[CH] Yeah. He's the only person besides Trey that owns more than one, from what I've heard, and he lets people play 'em. I guess Steve Kimock was the last person to play it before me, which is pretty cool. So I'd have to have one of those guitars.
[POTD] Did it live up to the hype?
[CH] Yeah. Yeah, it did. I played it a couple times before, and I just didn't quite get the feel for it, but this time I got to soundcheck with it, and really got to learn…the guitar, it's got a mind of it's own, which is pretty cool.
[POTD] Tom Marshall just did a podcast with Trey, and he was talking about how he wrote a lot of music for Phish after he got that guitar because he could only play it on that guitar, trying to figure out how it worked and balance the feedback and all that – the sustain, the long notes, whatever, for certain songs. Pretty interesting.
[CH] It's a magical guitar, it really is. The only other guitar I've played, which would be my third guitar, would be the DGN Kalos that Mihali Savoulidis from Twiddle plays. He and I are really good friends, I've got to play that guitar a lot, and that's the closest thing to a Languedoc I've ever played. DGN Guitars, they're out of Connecticut, and they're fantastic.
[POTD] What about the Klon – do you believe the hype?
[CH] I've never used one, never had the pleasure.
[POTD] Trey just added on to his rig as well.
[CH] That's where I saw it. I have not had the chance, but now I'm looking forward to finding one.
[POTD] So, you guys are here at Treefort – what's next? Where to?
[CH] We're in Victor, ID tomorrow – we're in the middle of a 4 week tour right now.
[POTD] Is that for the 'Magic' album, in support of that?
[CH] Yes. We just released it on St. Paddy's Day – we were out for 4 days before we actually released that, and had the release date in Denver, it was a perfect spot. It's been received really well.
[POTD] Listened to it yesterday – 'Into The Moss', 'Moving On' and 'Slab' were my three favorites.
[CH] Hell yeah. Those are my songs that I contributed to the album (laughs).
[POTD] Really? Kinda crazy those were the three I picked!
[CH] Yeah, that's awesome.
[POTD] Anything else you'd like to promo or anything?
[CH] Thank you for your time! Gotta give a shout out to my strings, DR Strings – love those strings, Godin Guitars and Mesa everything.
---
Thanks so much to Chris for taking the time to answer some questions! Make sure to go check out thewerksmusic.com, and check their tour page to see when they're headed to a town near you! Cheers!
---
GET EXCLUSIVE UPDATES, CONTEST INFO, SEE OUR LATEST DEMO VIDEOS AND MORE: