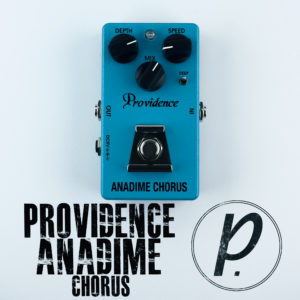 A good chorus pedal can really add depth and dimension to your tone, while a not-so-good one can make you sound a bit cheesy and thin. Today's featured pedal falls squarely into the former description, providing a warm, lush effect for both emulating guitar heroes of past decades and creating new and exciting modern sounds. The Anadime ADC-4 Chorus is the latest version of this pedal from our pals at Providence, and brings a whole new set of tricks to the chorus party.
Depth, Speed and Mix are the 3 control knobs present on the Anadime, each with great range for a variety of musical embellishments. An analog effect that uses a Bucket Brigade Delay device internally, it is perfect for lead and rhythm players, arpeggios to chords, riffs to solos and more. Crank the Speed and Depth knobs up, and listen to this blue beauty purr like a robotic kitty on the prowl in some abandoned alley in another galaxy. Use the newly added Mix knob to blend in the perfect amount of either a subtle or crazy effect, making it as intense or as mellow as your music calls for.
A 3-way toggle switch opens up even more possibilities here, too. The DEEP mode switch lets you select from three modes that vary the perceived dimensional depth of the Anadime Chorus, with the deepest setting up and the shallowest setting down, plus a neutral one in the middle. A special noise reduction circuit is introduced to provide less of the white noise problem sometimes associated with analog chorus effects as well. Add to all this Providence's Double Contact Grounding Circuit, and you have got one smooth, quiet and powerful tonal machine.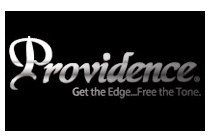 Sometimes it might feel like there's a little something missing from a particular song or phrase, and a quick insert of the Anadime ADC-4 Chorus might just be the exact thing you didn't even know you were searching for. With spacious sounds surprisingly coming from a mono pedal, this effect gives you a new outlook on what your music can do, how it can sound and why you play in the first place. Thanks to all at Providence for creating another knockout pedal – check out the demo video below for some ideas to get you rolling, then head over to their website to snag one of these for yourself!
GET EXCLUSIVE UPDATES, CONTEST INFO, SEE OUR LATEST DEMO VIDEOS AND MORE: