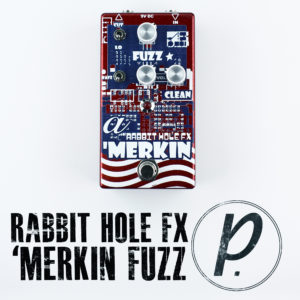 The Chaosmic Fuzz pedal that we reviewed and demoed last year was the first offering from Rabbit Hole FX, and since that initial effect, they've added a couple more to their lineup, one of which we are going to check out today. The 'Merkin Fuzz is totally different from its big brother, but features some fun options and separate volume controls, which can be super-useful in the world of fuzz. Let's see what this patriotic pedal can do, shall we?
The 'Merkin Fuzz features two different volume controls, as we mentioned: one for the fuzz output, and one for clean output. This second knob can be used independently from the fuzz section, with unity set at around noon. Use it for a clean boost, or add it in with the fuzz to create bigger, warmer, thicker fuzz tones all around. The 'Merkin also features top-mounted jacks, Carling soft-switching relay-based true bypass, high quality inner components and more.
As for the fuzz portion of the pedal, here's where it gets fun. In addition to the aforementioned Fuzz Volume control, there's another knob called "Nancy" which acts as your gain control. With a boatload of sustain and dirt on tap, this control will get you the fuzzy results you're after, and can mellow your sound out a bit if needed, too. 2 toggles switches open up this options-laden beast, and apply only to the Fuzz section itself. The Wave switch, when pushed down, activates an octave effect, giving you even more low-end and sustain, for a truly powerful pedal. The second switch is a Cut/Low toggle, with the Cut portion boosting the lower frequencies, and the Low section providing a flatter frequency response.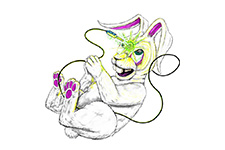 All in all, this is one fun fuzz to experiment with. Being able to dial in the low end is key here, too, and will instantly grab the attention of any bass players in the vicinity. The small 125B sized enclosure makes it easy to add to any rig or pedalboard, and you can even adjust the brightness of the LED via an internal footswitch. Thanks to everyone at Rabbit Hole FX for another killer fuzz pedal – make sure to head over to their site to see what other gems they have in store for you, and check back here for more reviews and demo videos of their gear!
GET EXCLUSIVE UPDATES, CONTEST INFO, SEE OUR LATEST DEMO VIDEOS AND MORE: