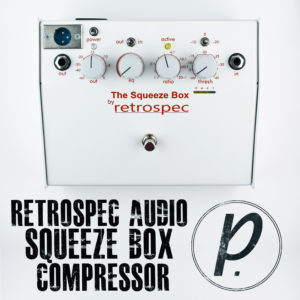 It seems like we've had a fairly steady stream of compressors coming through the shop lately, but nothing had prepared us for today's mammoth of a pedal that arrived from Retrospec Audio's shop in Weehawken, NJ. The Squeeze Box is a studio-quality optical compressor/limiter that has been sized down into pedal form, albeit a pretty big pedal. Every compression and limiting sound and tone you could really want or need is trapped inside this beast, and we're going to attempt to coax them all out.
Although this review was done in conjunction with a guitar, the Squeeze Box also works wonders on vocals, drums, keys and anything else you can think of for pristine and clear recordings. The nice thing is, once you're done at the studio, it's small enough that you can just bring it with you to the gig, keeping your tone sounding the same, and giving off beautiful, warm studio compression in a live setting. A high impedance input gets the most out of your instrument, while the tube-buffered 1/4″ jack and mic level balanced XLR outputs give you more options as to how you want to run your rig. The high voltage, all-tube, transformerless design ensures a super low noise floor, along with incredible frequency response, for an all-around powerful musical tool.
As far as the controls are concerned, it all starts out with the Out knob, which adjusts the signal level the Squeeze Box puts out. With up to +20dBu of gain available, you can use it as a front end boost to drive an amp harder, or, with a line matching transformer, as a mic pre. Ratio and Threshold are usual compression suspects, and work together to form many incarnations of sounds that ooze out of this stompbox. There's even a pad toggle switch to further adjust the Threshold, which can also be boosted if need be via the Out knob. Rounding things out is an EQ knob, which features not only a huge range of tones, but can be completely cut out via another toggle if you'd like a flatter-type of response. These controls all work together and add up to a ton of sonic opportunity to apply to whatever project you're working on.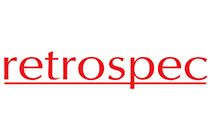 Beginning in 1996, Retrospec Audio has taken their time to build up a couple of incredible audio devices (check out their Juice Box here), and The Squeeze Box is one of the finest looking and sounding compressors we have ever come across. The buffer is active whether or not the compression circuit is in, resulting in a particularly desirable effect on acoustic guitar and upright bass pickups. Filled with all the compression options you could need for both stage and studio, there's a good chance this will be that last pedal in the genre that you'll ever need. Big thanks to James and everyone at Retrospec Audio for getting in touch with us and turning us onto this incredible box. If you're in need of a one-stop shop pedal/unit for all your compression needs, look no further than the Squeeze Box. They'll even arrange a demo for you at their shop if you want to go check it out…
Specs:
Controls- Gain, threshold (W/ switchable pads), ratio, eq (independently activateable)Frequency response-10Hz-40KHz +/-1dB
Noise Floor- > -72dBu active @ Full Gain, > -90dBu inactive
Input Impedance- 2.5M
Gain- +20dBu
Inputs-1/4" TS
Outputs-Tube buffered 1/4" TS, XLR
Operating Voltage-120/240VAC Switchable
GET EXCLUSIVE UPDATES, CONTEST INFO, SEE OUR LATEST DEMO VIDEOS AND MORE: