Efren Castro
Tijuana, Baja California, Mexico
Paradox Effects
www.paradoxeffects.com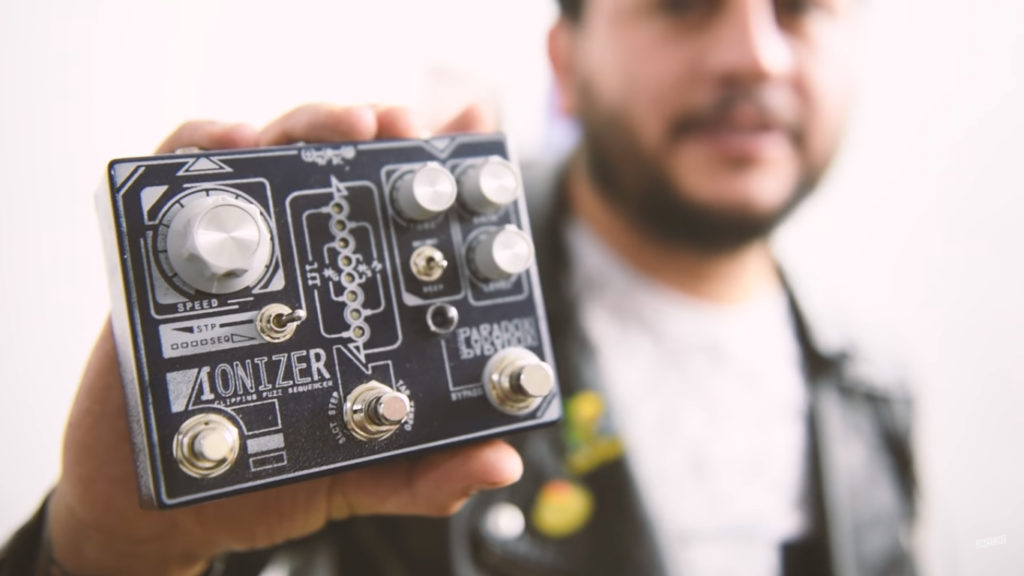 How long have you been a musician? How did you get into it in the first place?
Since I was 11, I'm currently 30. I started playing bass on my own and then got together with a few friends to play some Misfits covers. I think one of the reasons I got through most of the days playing instruments was to keep myself away from the streets of my hood, Infonavit Soler or "El Info", which was a pretty sketchy place with lots of drug dealing and things like that going on. Playing bass, reading and skateboarding were my main activities. Later, when I started playing guitar and touring with different bands, we had to come up with the means to travel, everything was very DIY, so I believe that starting to make our own pedals was something that came naturally.
Who have been some of your major musical influences, past or present?
Hard question, because there's lot to say, but I'm gonna try to be straight. Los Prisioneros, Black Sabbath, The Smiths, Jimi Hendrix, My Bloody Valentine.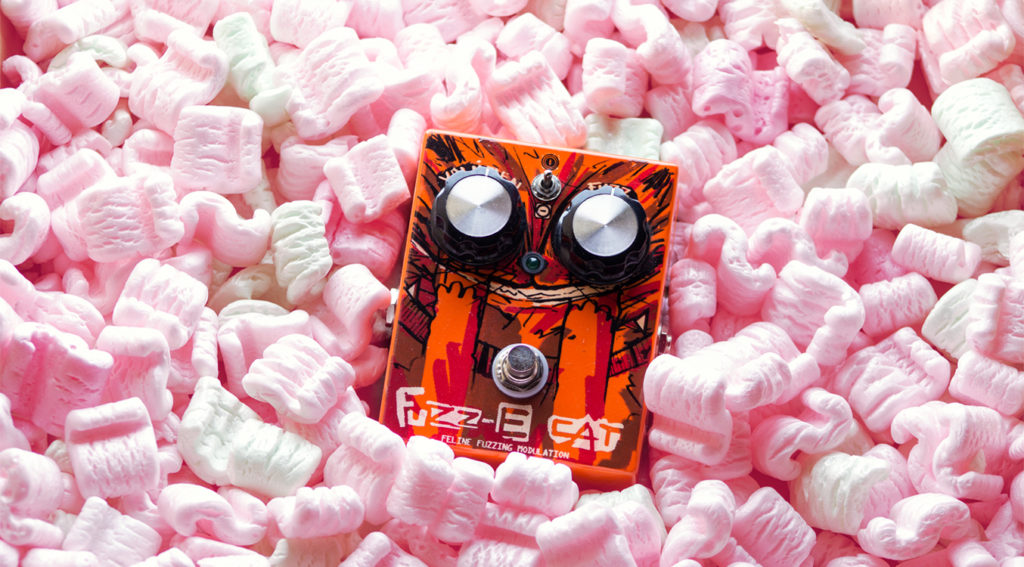 What led to the start of Paradox Effects? How long have you been in business? How big is your operation/how many employees do you have?
I grew up with Fernando Servin (my parter in crime) and we started playing together in a lot of bands, while we were on tour we always talked about making our own devices. He's a visual artist and I'm an electronic engineer, and as different as that may sound, we came up with a common creative purpose that gave life to Paradox. We have been doing this for almost 4 years. It's a small bussiness, we're only 4 people right now: Daniel Zamudio, Rogelio Gutierrez, Fernando Servin and me, everyone brings something different to the project.
Did you have formal schooling, or are you self-taught? Take us through that story:
As I said before, I'm an Electronic Engineer, but even as an engineer it was difficult for me to even focus on doing something. I knew that I wanted to work with electronics and music, but I was hoping to find a class like FUZZ THEORY 101 (haha). Of course, that never happened, so I started experimenting with some synths and noise makers. One of the main reasons that helped me develop some sense of purpose was talking to one of my teachers at UABC (Universidad Autonoma de Baja California), Juan Jesus Lopez; I did some research about effect pedals and tube amplifiers for his class, and I think he was the only one ready to listen to all the crazy things I had inside my head. Most of the classes are thought for making students competent to work for the big foreign companies we call "Maquilas", so finding a place for you and your work is hard, even as a student.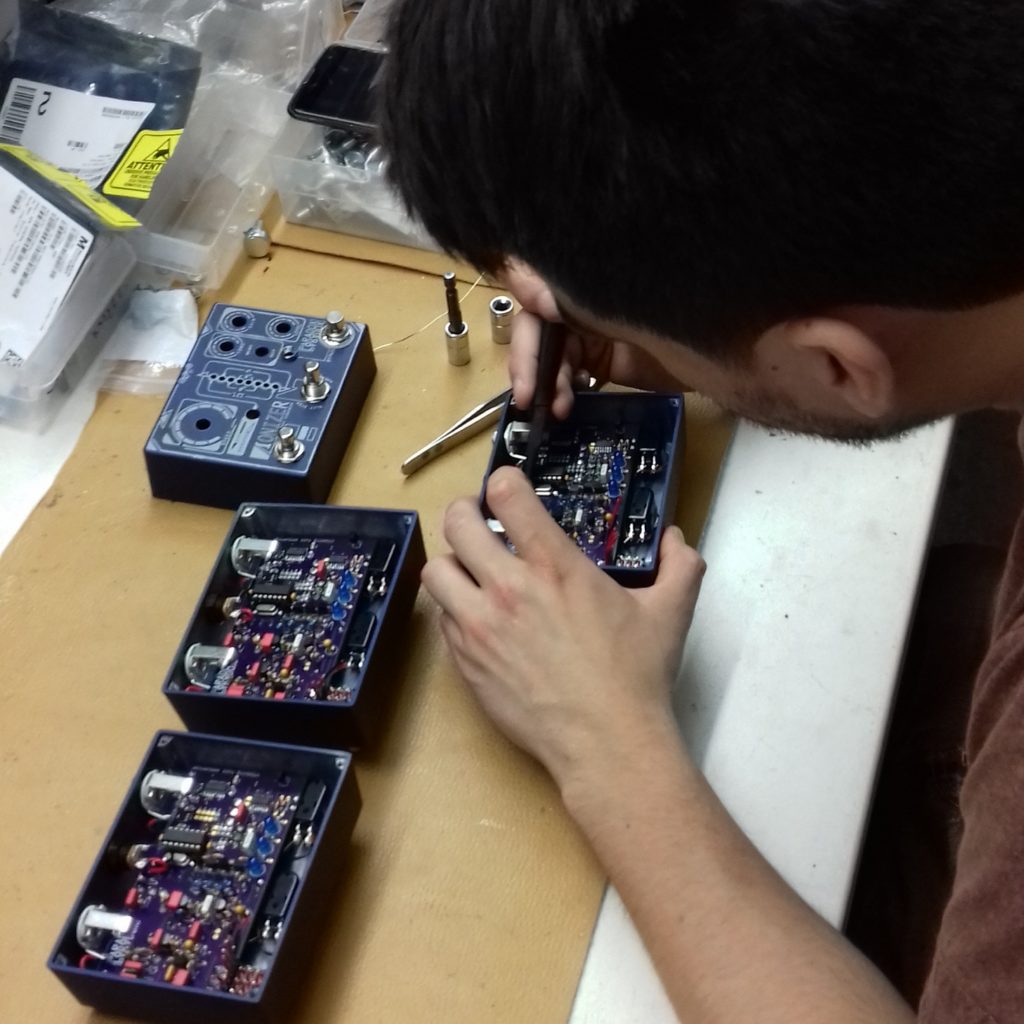 What drives you as far as new pedal creation is concerned? How long does it typically take for an idea to come full circle and become a demo pedal? What's the process behind new gear, and the eventual release of it to the public?
I think it's always different, sometimes it can be a riff we hear in a song, sometimes it can be something that doesn't have a direct connection with music, like a very specific noise on a videogame or an imaginary pedal conceived for some alternative sci-fi reality, we're always watching movies and playing videogames and we're always down to talk about our new ideas, even if they may sound absurd. For example, we like to think about the Ionizer, as "the soundscape of a Jaeger Factory, the sequential clash of iron and machinery". Sometimes it can take about 3 months for these ideas to become a reality, sometimes a lot more! Every pedal represents a different challenge.
What are some of the biggest concerns facing your profession today?
A lot! Haha, it's not like we worry too much, because we love what we do, but we do face a lot of challenges. I think the main one is that in Mexico we don't have a big background on local tech development – most of the work we do is for foreign companies. It's not an environment that helps people make their own plans become a reality, it can be really hard to become a developer and to have a successful business. A few months ago, we were trying to ship an order to another state here in Mexico and a Border Customs employee told us that we needed to pay an extra tax because "It couldn't possibly have been built here, it looks like it has too much quality to be something made in Tijuana " – it was a strange compliment.
There's still a lot to do, but I'm happy to see that a lot of Mexican companies are staring to bloom, and I love to be part of something that is growing with effort and passion.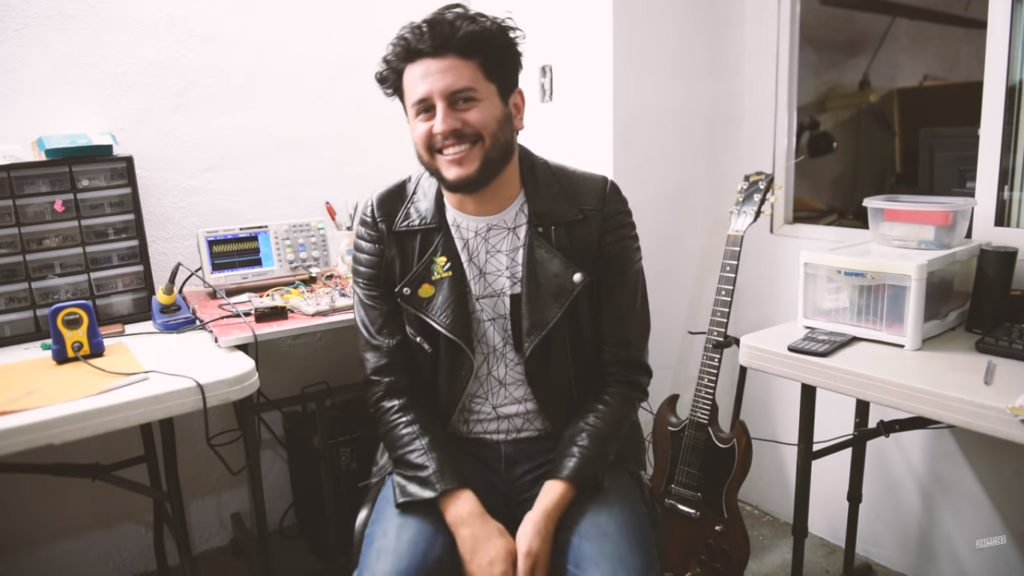 Where do you see pedal building going in the future?
I thinks there's a lot happening. DSP, Digital control, pretty neat and crazy. I love to see new things. I really feel that the pedal has a lot of cultural information within itself. I like to see Russian pedals from the 80s, the details on the design, the sound; in Japan there's this really experimental, machine kind of thing that Lastgasp Art Laboratories has in their work, I feel that pedals can have a deep anthropological meaning. All these devices and all of this diversity encourage you to find your own ways and identity.
But the main thing that gets me excited is the Voltage Control domain in pedals, the fact that you can make two different pedals interact in an electronic way is pretty fun. LFOs, VC pedals – it's something that I have been seeing lately and I'm stoked about it.
Who are some of your favorite builders in the industry right now?
Death By Audio, Lastgasp Art Laboratories, Dwarfcraft Devices and of course, Earthquaker Devices.
Oh, Lightning Wave is making really great pedals, that voltage control crossing in the pedal realm is pretty exciting.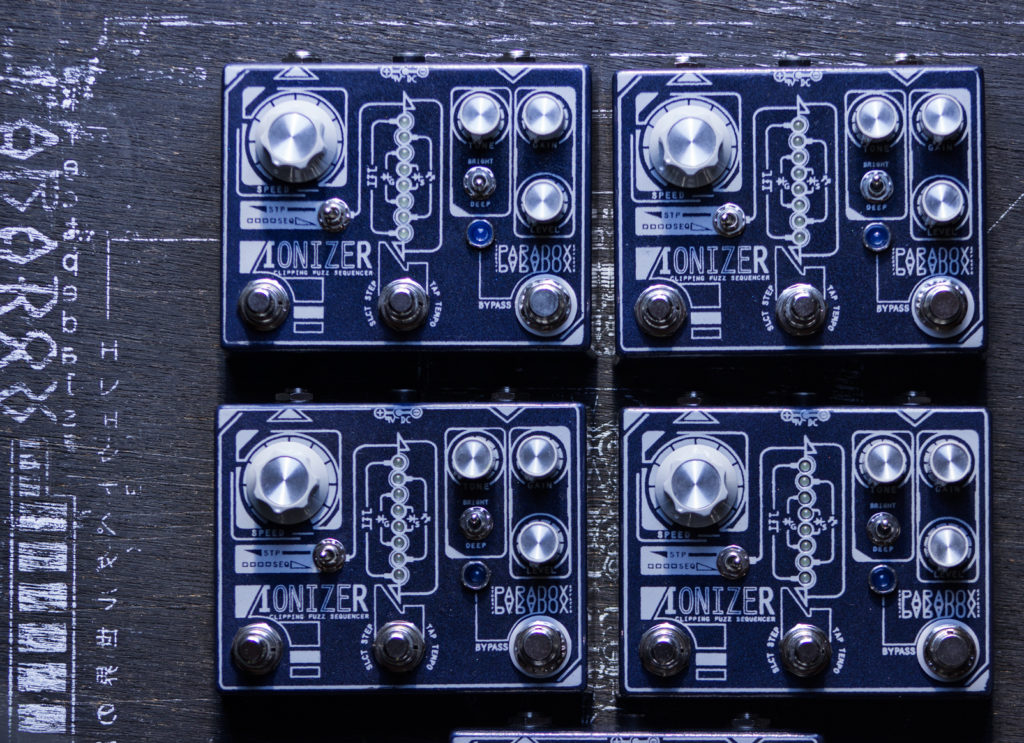 Name the last 5 records you listened to:
1. Let's Get Free – Dead Prez
2. Corazones – Los Prisioneros
3. Pestilence – Burial Year
4. Master of Reality – Black Sabbath
5. Exploding Head – A Place to Bury Strangers
The Klon hype: Love it or Hate it?
I don't think about that too much, I mean, I do my own things. But there are reasons out there to believe the hype, like people say in Mexico sometimes "Cada quien le reza a su propio santo".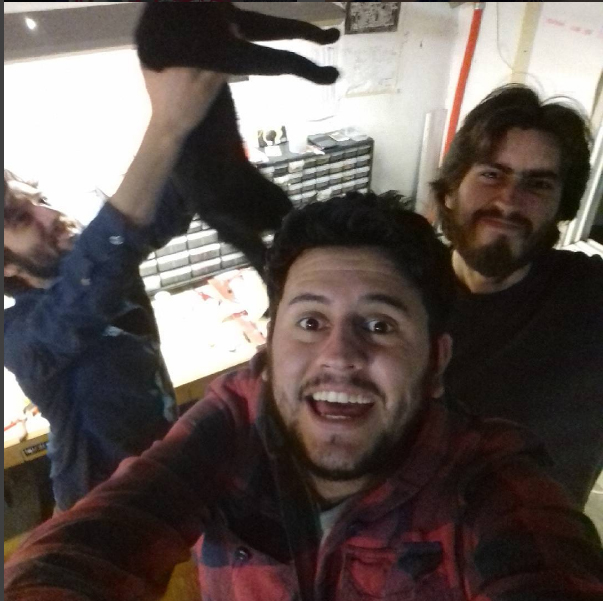 Any last comments, or anything you'd like to talk about?
I hate the use of the adjective "transparent" when talking about pedals, why would you buy something that does nothing? I understand what they're trying to say, but it's impossible to get "no color" from a device that has transistors, resistors, capacitors, etc.
I would like to thank everyone involved with Paradox, to those who have bought our pedals, we owe you a lifetime. If your ever come near Tijuana, you're welcome to visit our space, play with our pedals, make noise; we can take you to some really good food and beer, we can show you that our city is more than what you see in the media, there's people putting all their effort to make things better.
And thanks for reading all of this, gosh I talk too much.
---
Thanks so much to Efren for taking the time to answer some questions! Make sure to go check out www.paradoxeffects.com to peruse all of their gear – Cheers!
---
GET EXCLUSIVE UPDATES, CONTEST INFO, SEE OUR LATEST DEMO VIDEOS AND MORE: