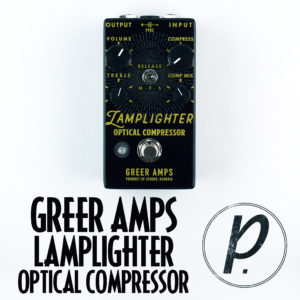 Studio compressors make everything sound, well…better, right? For years, we all have been on the prowl for a way to harness that key recording ingredient into our live rigs, without having it affect our original signal too much, and one of the answers has just come our way. The Lamplighter Optical Compressor from Greer Amps takes that classic studio sound and brings it front and center to your pedalboard.
Volume and Compression are the two controls that should be on a compressor, and there are of course present on the Lamplighter as well. The Treble knob is an excellent addition, letting you boost or cut the higher frequencies as you see fit, furthering the tweakability of this subtle black monster. This knob also has a little bite to it when cranked up, so go ahead and experiment! The Comp Mix is a nice feature as well, a blend control to let you have as much or as little of the compression effect present in your signal path, for the ultimate in balancing action.
Another great feature here is the three-way toggle switch, which allows you to choose how quick the compressor's release is. M is the Medium setting, standard and even keel all around. S is a Slow setting, excellent for long sustaining chords and slide guitar, creating a bloom of sustain that you'd find hard to match. Finally, the F setting produces a Faster release, nice for adding just a hint of subtle compression to your sound.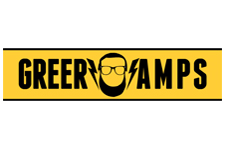 Squashed and smashed tones? Check. Subtle hints of compression, without being overbearing? Check. Made in Athens, GA, home of Neutral Milk Hotel, Drive-By Truckers, R.E.M. and Widespread Panic? Check again. A stunning compression experience through and through, the Lamplighter adds everything you need to your rig to make it sparkle and shine. We've been working with Nick and Greer Amps pretty much since we started Pedal of the Day, and continue to be impressed with not only the quality and workmanship of the effects they're putting out, but their whole approach to this industry, and how, as Nick says, "Love Always Wins." We try to keep that on the forefront of our minds as well, and so should you. Now go grab a pedal from the Greer website already!
GET EXCLUSIVE UPDATES, CONTEST INFO, SEE OUR LATEST DEMO VIDEOS AND MORE: