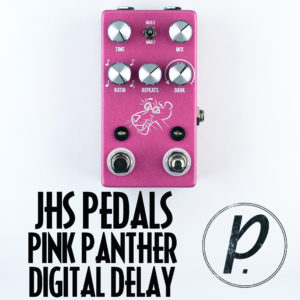 It's delay week in Pedal of the Day Land, folks! New delay pedal releases are always a good time, and many great ones we've tried have come from JHS Pedals. One of their creations that has baffled us (and most of you guys, too) is the elusive Pink Panther, which was released in 2007-2008 or so. Not many of these exist, and therefore they carry a hefty price tag, when you can actually find one for sale. JHS finally decided that it was time to get this pedal back into the hands of anyone who wants one, and thus have released the newer version of the Pink Panther Digital Delay.
Time gets us going in the control room, and the Pink Panther features up to one full second of crystal clear delay time to play with. Set the Mix knob at 12:00 for an even balance of your wet and dry signals, or crank it up fully clockwise for zero dry signal, to experience just the delay in all its glory. The Dark knob adjusts how you want the repeats to sound, with a pure digital echo produced when turned to the right, and darker, lo-fi repeats as you slowly turn it back to the left, for a wide array of tones. Use the Repeats control to adjust the number of echoes as well.
There's a Ratio knob here, too, giving you 4 different note subdivisions to choose from. Quarter, dotted-eighth, eighth and triplet notes are your selection choices, each one providing a different pattern to experiment with. A MOD toggle switch opens up even more possibilities, with Mod 1 mode adding a lighter, more subtle modulation to your delay, while Mod 2 gives off a deeper, more intense type of modulation, for bigger warbles and shimmers. Finally, there's a hidden Digital/Tape switch on the side of the Pink Panther, which lets you choose clean digital or vintage tape echo delay modes.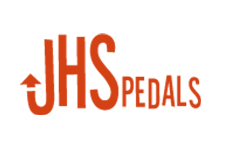 This new version also features a smaller enclosure with top-mounted jacks, for easy of placement on any pedalboard, as well as a side jack that can be used to control the tap tempo externally. Taking everything that is cherished from the original model, updating it and making it WAY more affordable, the new JHS Pedals' Pink Panther is an excellent digital delay, and one that doesn't seek to be anything else. Cheers to Josh and all the JHS folks for another wonderful delay pedal, we're always excited to see what musical concoctions you're going to unleash on the world next!
GET EXCLUSIVE UPDATES, CONTEST INFO, SEE OUR LATEST DEMO VIDEOS AND MORE:










More info at: