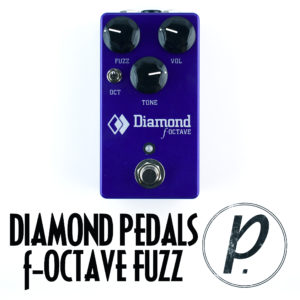 Today's pedal provides us with an excellent combination of effects: octave and fuzz. The f-Octave Fuzz Octave from Diamond Pedals is based off of the vintage and classic Foxx Tone Machine, and provides several tasty and dirty auditory options to choose from. This little blue beauty really brings it, and can easily drive your amp to breakup territory, do octave up and walls of fuzz sounds, and more.
The Fuzz tones created here are those of classic silicon-based descent, giving you those special and sought-out classic, late-60's/early 70's rock and roll tones throughout the course of its controls. Volume is your overall output, Fuzz dials in just the right amount of dirt (with a nice, wide range) and Tone alters the tone and character of the f-Octave. This control is a lot of fun to experiment with, as it has drastic effects on both the Fuzz and Octave sections of this pedal.
Speaking of the Octave section, just flip the toggle switch and your fuzz pedal turns into a nasty but clear analog octave up effect. Experimenting is again key here, with the Fuzz knob levels, how the Tone control plays into the mix, and how your guitar's volume and tone controls play a role as well. Adventure is the name of the game, with the octave actually working well across the fretboard, and yielding some unruly and gargantuan tones. The LED even changes color to purple when you switch modes, letting you always know which half of the pedal you're utilizing.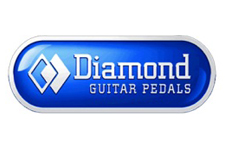 As you'll hear in the demo below, this thing is a monster, but in the best of ways. You want fuzz? You got it. Something a little different in Mode #2? Check. This is one for us noisemakers and sonic chemists, really bringing a whole lot of power and tone in a super-pedalboard-friendly size (love the top-mounted input and output jacks, too). As with all Diamond Pedals, this thing is built like a tank, and should expect many miles to be put on it for years and years to come. Cheers to our pal Aimish and the crew at Diamond for another fantastic dirt box, we can't wait to bring more reviews and demos of their stuff your way!
GET EXCLUSIVE UPDATES, CONTEST INFO, SEE OUR LATEST DEMO VIDEOS AND MORE: