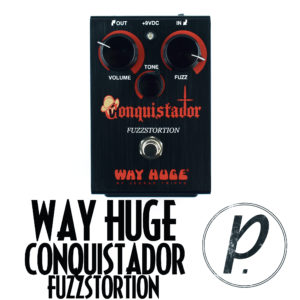 Another fuzz pedal, you say? Sure, why not? Fuzz is the best, right? Today's fuzzy wonder comes to us from a big Pedal of the Day supporter, Way Huge, and their continually evolving lineup of pedals. This newly-named effect is called the Fuzzstortion, a mash-up of two effect genres combined into one gritty box. More fuzzy than distorted, this guy features some intriguing settings to explore, and a whole lot of fun to be had…
The Conquistador is a gated fuzz that is more on the aggressive side of things, with a simple control set and lots of sonic frontiers that need conquering in its sonic pathway. Nothing new or crazy, the knobs Volume, Tone and Fuzz represent what we've all come to know and love about easy-to-use but powerful and engaging fuzz pedals, and this one is no different. The nice thing about this beast is that the tones remain melodic and pleasing to the ear, even at high ranges and volumes, something a lot of fuzz pedals are notorious for NOT being able to accomplish. Destructive and delicate simultaneously, this fuzz has distortive elements present, and in abundance, but never truly veers away from its fuzz-driven roots.
Described by founder Jeorge Tripps and Way Huge as as "a giant Velcro strip being torn apart with great vigor," the Fuzzstortion does not mess around, in any way, shape or form. Looking for a low-key, mild-to-mid fuzz pedal to show off to your buddies in your garage, without waking up the neighbors? Good luck! A smooth and mellow giant (with a tinge of crushing destruction on tap) in a sea of typical effects, the Conquistador™ is a unique new piece of gear sure to get the kids' heads a-bobbing and shaking. As always, thanks so much to Jeorge, Way Huge and Dunlop for continuing their support of what we do here at Pedal of the Day – now get over to their website and help support them!!
GET EXCLUSIVE UPDATES, CONTEST INFO, SEE OUR LATEST DEMO VIDEOS AND MORE: