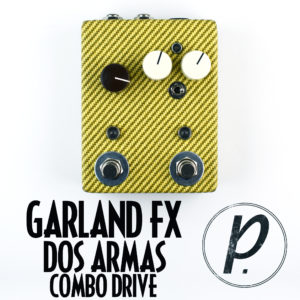 Most of us absolutely adore the sound of a classic Fender Tweed amp, but struggle to find the right combination of amps and effects to get us into that sweet spot. Well, today's pedal aims to change all that, boasting those vintage tones, complete with a tasty mid-range and lots of gain to work with as well. The Combo Drive from Garland FX gives you two effects in one, and delivers them in a package that is undeniably tweed-inspired.
The left side of the Dos Armas is the Boost side, which does exactly what you'd think. Clean and clear, this mode just ups the ante on your overall tone, making it sparkle and shine without any discoloration or tone-shaping. Working wonderfully as a solo effect boost, it also pairs well with the overdrive side of this tweed machine, for an over-the-top, break-up territory sonic enhancer.
The right side is the aforementioned Drive side, which produces a nice range of sounds from just a couple of simple controls. The Volume knob is on the left, while the Gain knob is on the right: done and done. Adjust these two to conjure up a slew of dirty sounds, with all the classic Fender amp gooeyness you've been after. One cool feature here is the lone toggle switch, which bypasses the Gain knob altogether, and gives you a completely different mode, one that is dirtier and gets almost into fuzz territory with ease.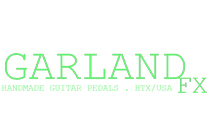 Unfortunately, it appears as though Garland FX is suddenly no longer in business, which will make it difficult to get your hands on one of these tweed beauties. Not quite sure what happened on their end, but the website no longer works, and all traces of social media have been deleted, so we may never know. We wish them the best in all their future endeavors, and are glad that we got to check out this unique and excellent-sounding overdrive and boost pedal they created. If you stumble upon one, don't hesitate to snatch it up – it won't only make you and your amp sound great, it just might be a collector's item further on down the road…
GET EXCLUSIVE UPDATES, CONTEST INFO, SEE OUR LATEST DEMO VIDEOS AND MORE: