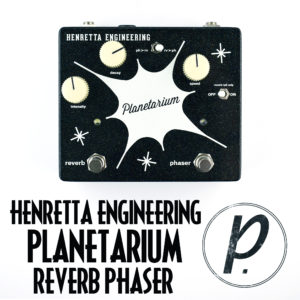 We've always admired the small footprint mentality of the mostly no-knob effects pedals coming from our friends at Henretta Engineering. Get the sound you want, set it, forget it, play your ass off. Perfect. However, we were excited to see that they had collaborated with the crew at Chicago Music Exchange to make a bigger pedal with some control knobs to play with, too. The Planetarium is a combination of Henretta's Moody Blue Reverb and Golden Years Phaser combined into one box, and it sounds just as rad as you're thinking it does right now.
The phaser side of the Planetarium is based on the Phase 45 phaser from MXR, a classic space-infused sound we've all been hearing for decades. The lone control here is Speed, which lets you adjust the overall pulse and intensity of the phase shifter effect. From low, barely noticeable waves of sound to pulsing, swirling, outer space tones with the turn of a knob. All the whoosh you've heard over the years is now right at your fingertips, and is easy to dial in a great sound in about 4.8 seconds.
The reverb portion sports one of Henretta's more complex effect circuits, and uses the Beltron "brick" digital reverb module. It's surrounded by all-analog circuitry, however, keeping your original signal uncolored or affected by and digital processing. Inspired by classic amp spring reverb tones, the Decay and Intensity controls will give you range from subtle and lightly-tone-coloring to full on wall of ambient bliss and more. There's even a toggle switch which lets you choose if you want the reverb to tail off or not after the effect has been bypassed.

Another toggle switch allows you to pick the order of the effects, either Phaser > Reverb or vice versa. With a ton of space-age, other-worldly sounds pouring out of this simple but powerful piece of machinery, you'd be hard-pressed to have to do a lot of work to get incredible tones dialed in with minimal effort. Only available at Chicago Music Exchange, the Planetarium is a force to be heard and reckoned with. Thanks as usual to Kevin and Henretta Engineering for sending it this way for us to demo – check out the video below, then head on over to CME and grab your own!
GET EXCLUSIVE UPDATES, CONTEST INFO, SEE OUR LATEST DEMO VIDEOS AND MORE: