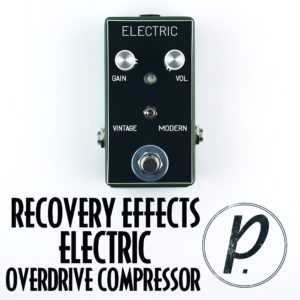 A really good simple pedal can sometimes knock your musical socks off more so than a complex, Tolstoy-novel-length manual-having pedal can, and we're all for that with as many effects as we see around here. Today's delightfully simple sonic recipe has only a couple of ingredients, but speaks volumes in terms of tone and value. The Electric is an overdrive and compressor in one, with elements of boost and preamp as well – our friends at Recovery Effects have taken a basic concept and knocked it right out of the park.
The Electric's control panel is short and sweet: 2 knobs and one toggle switch. Using Volume and Gain knobs to set those respective parameters, you can get an easy-moving, clean and classic overdrive sound in a matter of seconds after plugging this guy in. The Gain range is nice, and mixing it with the right amount of volume yields everything from clean boost to transparent, low-gain drive to a warmer, tube-driven sound throughout the full turn of the knob.
The toggle switch adds a little bit of flavor to the options portion of the Electric, giving you two different modes to choose from. Moving between modern and vintage tones, using BC547 and oil-can style BC108 transistors along the way, you get distinctively varying sounds from each side, allowing for superb dialing in of whatever type of drive sound you're out to achieve with ease. These transistors are hand-picked NOS, and the rest of the pedal is made up of high quality parts, made in the USA wherever available.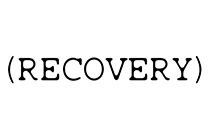 Perfect for a pristine clean boost or first stage overdrive, the Electric can also be run at 9 or 18V, the latter producing more headroom, and features true bypass switching. Never ones to skimp on quality or innovation, Recovery Effects takes a simple concept and really runs with it, producing an excellent all-around pedal that would fit on boards whose players are into country, classic rock, pop, industrial, death metal and more (well, maybe not that last one). Cheers to Graig and the crew for another job well done – we can't wait to see what's next!
GET EXCLUSIVE UPDATES, CONTEST INFO, SEE OUR LATEST DEMO VIDEOS AND MORE: