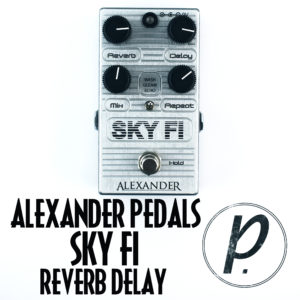 Reverb and Delay are based in similar categories, the main one being ambience. Fantastic individually, these two effects really take it to the next level when combined and played together, and that's exactly what happened with today's featured pedal. The Sky Fi from Alexander Pedals is a reverb and delay wrapped into one silvery enclosure, exploding with echoes, shimmers and all the ambient tones you can handle.
Reverb starts off the control knob section, and adjusts the mix and decay of the reverb engine. You can also turn this knob while holding the bypass footswitch to change the delay signal mix. Delay adjusts the overall delay time, while Mix blends your wet and dry signals together, with an equal mix when set at 12:00. Repeat controls the feedback and repeats of the delay engine, with darker, filtered repeats when you turn left and brighter echoes when turned to the right.
There's an excellent toggle switch present as well, giving you three different modes to choose from. Wash combines an 800ms delay with our slow-building reverb engine, and you can initiate reverb sustain by holding down the footswitch. Gleam adds an upper octave partial to the reverb effect, holding the footswitch swells in a pronounced shimmer – the delay time here is approximately 640ms. Finally, Echo produces a slow-build reverb plus delay, with the delay racing into oscillation when the footswitch is held, and the reverb dialing back just a tinge. This one gets CRAZY when you play with the settings, and will get loud and nasty in a hurry!
All in all, there's really no bad setting on the Sky Fi, if you like ambient washes and delayed signals, that is. The three modes really allow for a broad range of tones, and the simple control section makes it a cinch to get a great sound without spending a couple hours reading a manual. You can even use a TRS cable in the Output jack to send both Wet and Dry signals out, thus upping the quality and intensity of the ambience in a stereo rig. We're just getting started covering effects from Alexander Pedals, but are really impressed so far, and can't wait to add some more into our queue. Be sure to check out the demo below!
GET EXCLUSIVE UPDATES, CONTEST INFO, SEE OUR LATEST DEMO VIDEOS AND MORE: