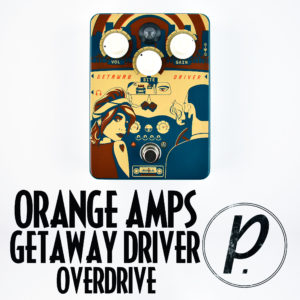 Last year, we had the chance to review/demo a new pedal from Orange Amps, the Two Stroke, a versatile clean boost/EQ with a ton of options. We couldn't wait to see what they came out with next, and today we get to head down that road once more. The Getaway Driver is an overdrive pedal that is also versatile, with a load of sounds, output choices and classic rock and roll tones.
When you first look at the Getaway Driver, you see three familiar controls, and may assume it's another typical overdrive pedal. The Volume, Gain and Bite (Tone) knobs are nothing new, even if they definitely have their place in the drive effects world, but this pedal sounds…different. Based on some classic amp tones from the 70's, the gain structure is produced using single-ended JFET circuitry running in Class A, just like a valve amp. If you're looking to rock out, this pedal is right up your alley.
In addition to the gorgeous tones oozing out of this artistic-looking enclosure, it has a couple tricks up its sleeves as well. A 1/4″ jack on the left is labeled with a Headphones icon, but it does much, much more. Great for practicing, this jack is also an output for a Cab Simulator, and can also be plugged directly into a recording interface. Open it up, and there's a button that can be engaged which tames the high frequencies, perfect if you're running a really bright amp with a lot of top end, as it mellows everything out nicely.
If you need a clean boost, the Getaway Driver works perfectly in that situation as well. An incredibly versatile pedal with a ton of ways to fit into your setup, it proves you can't always judge effects by their covers…or something like that. Thanks to the folks at Orange Amps for this multi-colored gem – stay tuned in the next few weeks for another review of a new pedal from their ever-expanding lineup!
GET EXCLUSIVE UPDATES, CONTEST INFO, SEE OUR LATEST DEMO VIDEOS AND MORE: