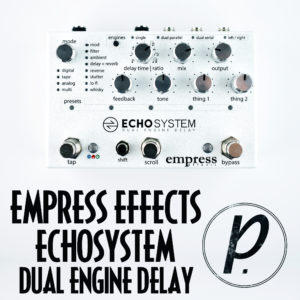 With all the powerful delays that have been coming out over that last couple of years, we were still REALLY excited about today's featured pedal. After checking out the Reverb pedal from Empress Effects last year, we couldn't wait to get our hands on the all new Echosystem, a Dual Engine Delay with the same look and feel of its predecessor. Needless to say, it was quite impressive right out of the box, and even more so when we sat down ad dug in.
Empress claims that the Echosystem "could be the ultimate delay-crafting tool," and we're not in much of a position to oppose that statement. Boasting 36+ different studio-quality delay algorithms, everything from classic analog and tape delays to digital rack unit delays to modulation-infused tones to reverse and more are readily available here, and with a user interface that is surprisingly friendly, you won't be fumbling and stumbling to try and find a really great echo tone with minimal effort.
For the demo below, we selected our favorite presets from each of the 12 main modes, and showed you how each one sounds, and what it can do. There are soooo many options here, to try and explain and demo them all would be a three-hour video, but the basics of some great sounds are covered in the video. Multiple algorithms are present in each mode, making the standard presets instant classics, while still giving you the option to tweak and specify each one to your liking.
There are also 35 presets available on the Echosystem, and with an easy footswitch control layout, they are accessible without too much fuss. The high quality audio is output features 48kHz sampling, with 24 bit conversion and 32 bit internal processing, for top notch and pristine echoes, but only when you want them to be. The analog and tape sounds are nice and dirty, without any of the digital noise that sometimes occurs with modern recreations of classic delays. The low noise signal path also provides a signal to noise ratio of >104dB and maintains an analog dry path, keeping your original signal intact.
Other features here include true or buffered bypass, cabinet simulation, stereo in and outs and a Control Port, which lets you connect an Expression pedal, CV (Control Voltage) signals, an external Tap Tempo switch and even MIDI capabilities. To say that this delay does it all is actually quite an understatement, and while it might not be everyone's cup of tea due to the sheer amount of options, those of us who dig it REALLY dig it, and will find ways to fit it into any and all of our various pedalboard setups. Empress Effects keep on rolling out some excellent gear, and we're excited to see what's to come in the near future.
GET EXCLUSIVE UPDATES, CONTEST INFO, SEE OUR LATEST DEMO VIDEOS AND MORE: