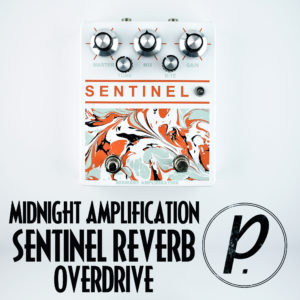 In the land of 2-in-1 effects pedals, there are a ton of fairly familiar combinations we've encountered over the years – Boost/Overdrive, Delay/Reverb, Chorus/Vibrato, etc. Today's pedal takes a bit of a left turn from the norm, combining Overdrive and Reverb, for a marvelous new sonic equation. The Sentinel from Australia's own Midnight Amplification mixes these two effects in a unique yet extremely useable configuration – let's see what we're working with, shall we?
The Master control sets the output of the Sentinel, and there's no shortage of volume coming out of this pedal. Mix blends the Drive stage with the Reverb, and although there's no dedicated reverb control, this sets how much you want added onto your overdriven tones. This works for having just a subtle hint of echo on your signal, or a full-on heavy, ambient wash when dimed, and many levels in between.
Gain sets the amount of drive you want, and Tone controls the EQ section of the Sentinel. Bite is another interesting addition, as it creates a sonic "bite" to your ears, upping the higher frequencies a touch, perfect for slicing through any given mix. For more fun and musical adventures, there's a momentary "freak" footswitch as well, which sends the effect into a tailspin of auditory glory, perfect for those of us that like to make crazy noise, and not really for the faint of heart – this thing will rock your world.
As our second foray into the world of Midnight Amplification effects, after the Giant Sound Preamp from last month, the kids from down under are a solid 2 for 2 so far. With one more coming down the pipe in the next few weeks, we're exciting to continue working with them and bringing you guys more reviews and demos of their gear. Be sure to check out the video below for some tasty samples of what the Sentinel can do, and check out the Midnight Amplification website for more tasty sonic treats as well.
GET EXCLUSIVE UPDATES, CONTEST INFO, SEE OUR LATEST DEMO VIDEOS AND MORE: