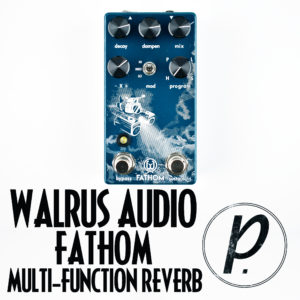 You all have fun at NAMM last week(end)? Well, we've got one of the premiere effects from the show for you RIGHT NOW! Continually pushing the musical envelope is what it's all about these days, especially in the crowded effects pedal market. Colt and the squad at Walrus Audio seem to be keeping themselves up near the lead in this crazy race, and with today's pedal, they just might take the lead. The Fathom is a feature-rich reverb highlighting 4 different algorithms, some tasty modulation and a whole lot of options to choose from as well.
Across the top, we start off with the Decay control, which fine-tunes the length of the reverb. Up next is Dampen, which acts as a tone control, from darker, brooding reverb sounds to bright and punchy and happy. Mix blends in as much of the reverb effect as you'd like, with a unity mix set right around 2:00, as indicated by the permanent white line marked on the pedal. There's a lone toggle switch present here, too, which controls the amount of modulation you want to show up in your signal – Lo, Med and Hi give you three nice options to explore, with Lo turning the modulation completely off when you're in Sonar mode.
Speaking of modes, the Fathom's main attraction is the ability to choose from 4 distinct reverb programs: Hall (wide open with high-frequency rolloff), Plate (full body with smooth decay), Lo-Fi (filtered with AM radio elements) and Sonar ('verb with both high and low octaves). Each of these programs sound very different, and are all controlled differently using the "X" knob. When you're in Hall and Plate modes, X sets the pre-delay; in Lo-Fi mode, it adjusts the width of the filter; in Sonar mode, use it to blend the high and lo octave settings. The Fathom also has a second footswitch, Sustain, which, when held down, extends your reverb decay, creating a dreamy, ambient decrescendo.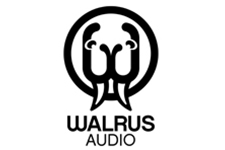 You can even activate the effect momentarily when the pedal is bypassed via the Bypass switch, just by holding it down, for quick bursts of flavor throughout your band's set. While all of this functionality is impressive, it's really the SOUND the Fathom produces that make it such a great pedal (check the demo below!), one that's sure to grab the hearts of ambient players the world over. Proud to review and demo their pedals as always, thanks to Colt and friends at Walrus Audio for another fine piece of gear – can't wait for what's next!
GET EXCLUSIVE UPDATES, CONTEST INFO, SEE OUR LATEST DEMO VIDEOS AND MORE: