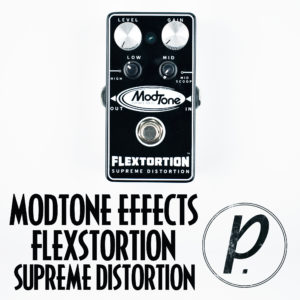 We've been getting down and dirty the last few weeks with some incredible distortion pedals, and we're gonna keep that trend going again today, if you don't mind. "Good-sounding distortion" and "affordable" don't always go well together, but today's pedal just might change your opinion about that. The Flextortion from ModTone Effects is a supreme distortion, featuring enough range to cover all your metal needs, with a 4-band EQ that will make it sound awesome, not just loud and shreddy. If you're prepared, let's jump on in and check this fella out…
The Level and Gain controls act as they should, with no mild-mannered tones to be found in this effect. Both feature more than enough of their respective parameter settings for anyone to handle, and they produce the fat, bold tones that anyone in a metal band would be after. As far as interacting with your setup and amp, there are FOUR EQ controls (yes, four), including Low, High, Mid and Mid Scoop, for endless possibilities as to how you'd like to set your distorted sound. Want a little bit of crunch? Done. Need a whole wall of sound to blow away the 100 person club you're playing on Friday? Check. Need to impress your friends or the neighbors with endless monster shreds at way-too-loud volumes? This thing has got you covered.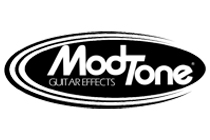 The rugged metal (hehe) housing and small enclosure size make it a perfect match with the rest of your hardcore rig, and it's sure to be able to take many foot stomps, bar brawls and beer spills to ensure it continues to pump out all the metal you need for a long time to come. We've got some more pedals from the ModTone Effects' lineup coming your way soon, so check back and see what other gems they've got in store for you!
GET EXCLUSIVE UPDATES, CONTEST INFO, SEE OUR LATEST DEMO VIDEOS AND MORE: