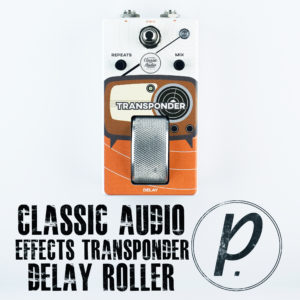 A couple months back, we had the pleasure to review and demo a new sort of pedal, one that featured a roller wheel that allowed you to set the intensity of the overdrive. That pedal was the Stumphouse Drive Roller from Classic Audio Effects. Well, they're taken that concept and applied it to probably our favorite genre of pedals: Delay. The Transponder Delay Roller takes this unique concept and rolls (pun intended) it into an echo machine capable of huge tones and easy usability.
The roller sets the Delay Time on the Transponder, and boasts a full 270˚ of rotation, allowing for exacting and uber-specific delay time settings. With a max time of 1000ms, the crystal clear repeats will echo from your amp for days. In addition to the roller, a Repeats knob adjusts the number of echoes – this, along with the roller, makes for an experimenter's dream effect, as you can see and hear in the demo below. A Mix knob rounds out the controls, letting you dial in as much or as little of the delayed effect as is desired.
The top-mounted jacks make this guy super pedalboard-friendly, too. With a reinforced belt drive, roller positional LED, a fully sealed bearing drive system, sturdy aluminum enclosure and soft touch true bypass relay switching, it's full of quality sound and is definitely built to last. Easy to reach in any position on your board, the Transponder will quickly become your delay weapon of choice once you unleash its full musical potential.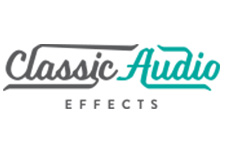 While there are no fancy bells and whistles on this puppy, it is a solid, excellent-sounding delay, and one that features an innovative and instantly-recognizable user feature, which is something that you need to compete in today's crowded effects pedals market. Not only does it look and sound great, the on-the-fly ability to accurately set your delay time with a slight nudge of the wheel is invaluable to players, especially when you're on stage and don't have time to think about it. Easy to use, superb sound and reliable build structure all make the Transponder an A+ delay in our book. Thanks to Curt and everyone at Classic Audio Effects for another great invention – check back for our review and demo of their new Yukon Reverb Roller in the next couple weeks as well!
GET EXCLUSIVE UPDATES, CONTEST INFO, SEE OUR LATEST DEMO VIDEOS AND MORE: